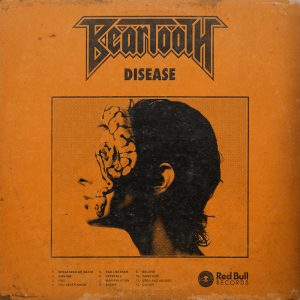 Whether you're already a fan, or you've only just heard of the band due to the recent announcement they'll be supporting Architects on tour early next year, Beartooth have and continue to consistently made an impact on the alternative music scene. Winning allegiance by bridging the gap between heavy and accessible, their third album, 'Disease' is no different and cements them as an important figure in heavier circles.
On the record, there are moments of growling punk rock, with the likes of 'You Never Know', a frenzied burst of kinetic energy, and 'Manipulation', an unstoppable force. 'Greatness or Death' passes the school of anthemic arena rock with flying colours. Beginning quietly before ascending into a stomping refrain, melodic vocals and heavy riffs, it's impossible not to get caught up in the momentum.
During 'Afterall', in which vocalist Caleb Shomo sounds identical to A Day To Remember's Jeremy McKinnon, the album takes a lighter approach, borrowing the soaring group chorus sound from pop punk. In contrast, 'Bad Listener' furiously roars its way from start to finish.
The album's recurring theme of mental health is prominent, and the difficulties of the topic are reflected in the wide range of musical styles on offer. The subject is mentioned throughout, both explicitly and more subtly, no more obvious than during the title track 'Disease' as the ferociousness of the music mirrors the anguish of the lyrics.
Cataloguing the ups and downs of anger and hopelessness, 'Believe' is optimistic but 'Enemy' is dark and angry. From start to finish there are contrasts: the balance between light and darkness; poppy choruses and heavy punk; sadness and hope. The message here is to ride out the darkness, in the knowledge the light will come.
Diverse enough to stay interesting and familiar enough to get lost in, with an overriding message of strength and determination, Beartooth's latest release demands to be listened to.
4/5
'Disease' by Beartooth is released on 28th September on Red Bull Records.
Beartooth links: Website | Facebook | Twitter | Instagram
Words by Kathryn Black (@kathrynblack07)