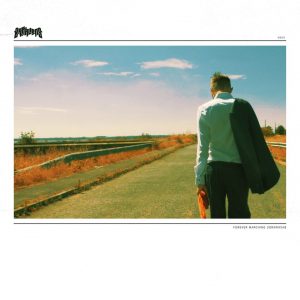 The small city of Kingston Upon Hull is fast becoming a hotbed of up-and-coming metal bands. One such band are four-piece stoner stalwarts Battalions who are returning with their third album in as many years: 'Forever Marching Backwards'. How does an underground band of almost a decade fare in this gruelling metal scene? Let's see.
The title track starts the album off on a mediocre note with a meat and potatoes riff that you've probably heard on multiple stoner songs. Once the vocals are introduced we get hellish barking from frontman Philkinson who sounds like he is getting dragged through a bed of nails for the duration of the album. 'Cities of Ruin' opens as drab as the last song and snowballs into something that sticks out like a sore thumb. The musical progression at the end of the song makes you lose yourself in the groove. 'Goat Feeder' is a track that leaves the last two in the dirt, showcasing catchy riffs and a build-up of the wall of sound that they have produced on this song.
'Vaseline (G)Love' and 'Infinite Void' are both songs that deliver high-quality riffage, slamming drums and high octane vocals. The former of the two is a barrage of tasty licks and drastic tempo changes that keep the listener entertained throughout. 'Infinite Void' is a song that is reminiscent of Ozzy-era Black Sabbath with the sauntering guitar lines and the spacious drums, but with the obvious difference being the guttural vocals that cut through the mix.
While there are good ideas that bleed throughout, 'Forever Marching Backwards', is at times, a monotonous affair. The occasional nod to their influences hinders their originality. Nevertheless, this third outing serves as a beacon of hope for Battalions, a promise of something special to come in the future, something they've just fallen short of here.
3/5
'Forever Marching Backwards' by Battalions is released on 30th November on APF Records
Battalions links: Facebook | Twitter | Bandcamp
Words by Dylan Whitty (@rootsinwax)