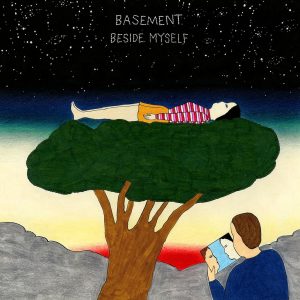 Once upon a time, the prospect of a band jumping over to a major label put fear and dread into those loyal fans who have followed them since playing in their local club. Thankfully the notion behind such a change is relaxed these days which is beneficial for Basement as their fourth full-length, 'Beside Myself', sees them part of the Fueled By Ramen roster.
It's an album that neatly follows what has come before it, albeit lighter and cleaner. Nevertheless, their trait of providing songs full of raw emotion remains intact. Songs such as 'Keepsake' and 'Be Here Now' are early examples of this, combining it with a radiant melodic flair. Nevertheless, the vibrant 'Disconnect' sets the level too high from the start, resulting in the remainder of 'Beside Myself' struggling to be on par with it. It's a soaring, arena-ready highlight. However, that's not to say 'Beside Myself' is a one-song wonder.
The quintet stylistically nod their collective hats to 90's rock with poise. 'Slip Away' is carried with a gritty, grunginess and the aforementioned 'Be Here Now' drives forward with direct guitars. And as seen on 2016's 'Promise Everything', Basement have found their feet when producing memorable hooks. 'Nothing Left', 'Ultraviolet', 'New Coast' and 'Just A Life' collectively show this while simultaneously combining it with vocalist Andrew Fisher's emotional outpouring.
Throughout he explores his own worth as 'New Coast' mentions of "being told you 'belong'" before referencing 'grace' and 'pride' as former friends. While 'Stigmata' and 'Ultraviolet' discusses failure and depression respectively. When threaded all together, it creates an impassioned picture of despair and struggle that concludes with 'Right Here'. Drenched in melancholy, soft plucky guitars and mournful strings complement Fisher's acceptance of where he is.
The transition to a major label has been seamless for Basement, even if 'Beside Myself' doesn't provide instant results. Nevertheless, it's evidence of a band willing to explore and expand themselves lyrically and musically.
3.5/5
'Beside Myself' by Basement is released on 12th October on Warner Bros. Records / Fueled By Ramen.
Basement links: Website | Facebook | Twitter | Instagram
Words by Sêan Reid (@SeanReid86)