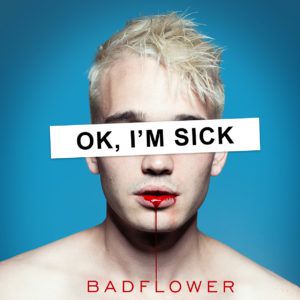 Talk about contemporary rock in 2019 and it's more than likely that Greta van Fleet will end up dominating the conversation. Thankfully, we have Badflower to rescue us, providing a sleek, well-oiled alternative. Hard-hitting and emphatic, 'OK, I'm Sick' is an impressive debut that is set to make us anything but.
"Is there anyone out there looking out for me?" howls frontman Josh Katz on 'The Jester'. Even at this early stage of the album, Badflower resolutely underlines what they're about; hard rock with arena-sized choruses. Sometimes there's a tinge of pop-punk, as on the opener 'x ANA x', while sometimes the music takes on more of a classic bluesy quality. For example, the anti-Trump 'Die' thrives on heavy blues-rock. They don't always keep it PG. On 'Daddy', a driving anthemic rock track, we get rather dark lyrics about how "Daddy gives it all 'cause he loves you the most".
'Heroin' is rather self-explanatory, starting off slow by Badflower's standards, before the chorus arrives at the first sign of distortion. Throughout, an underlying sense of vulnerability permeates through. For a band who open an album with "I'm clenching my face and I'm touching my dick" in the first verse, lyrics in the vein of "Take the blade away from me/I am a freak" are perhaps surprising, but it's here where Badflower are at their strongest.
Sometimes, it can sound a bit too polished. 'OK, I'm Sick' is their debut, after all, and a bit more grit and rawness wouldn't go amiss. It's reminiscent of when Royal Blood arrived on the scene, ready-made for commercial rock radio. That said, it's merely a minor gripe about what is an impressive collection of songs. It's a powerful release – Badflower have crafted an album that is bold and tender in equal measure. One of the best rock albums of the year so far.
4/5
'OK, I'm Sick' by Badflower is out now on Big Machine.
Badflower links: Website | Facebook | Twitter | Instagram
Words by Adam England (@garageflowrr)