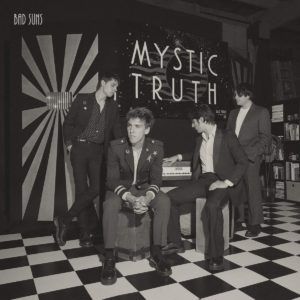 "I've got no sense of direction or what to do" sings Bad Suns' lead vocalist Christo Bowman on 'Away We Go', the opening track of their third album 'Mystic Truth'. It's a good starting point for the album; indeed, it seems Bad Suns do have a sense of direction. By now, they've garnered attention as a solid, moderately successful indie act – touring with The 1975, putting out a couple of albums – you get the gist.
It's fitting that this album comes out during the first part of spring – it's an uplift from the drudgery of winter and the post-festive slump. Riding a wave of pulsating drums and melodic guitar, for the most part, give 'Mystic Truth' a wholly positive feel. Admittedly, the lyrics Bowman sings aren't always the most optimistic – as can be seen above – but the music belies the words.
On occasion it can verge on the trite; the backing vocals in 'A Miracle, A Mile Away' are difficult to take seriously. But when Bad Suns wear their hearts on their sleeves, no-one is going to be laughing. 'Darkness Arrives (And Departs)' is a genuinely moving song, starting off reminiscent of Green Day's seminal 'Good Riddance (Time Of Your Life)', before leading into an atmospheric, emotive chorus.
From one song to the next, it's not always easy to differentiate. It's such a tight, consistent record that it could actually prove to be their undoing. The outliers are enjoyable, however. 'Hold Your Fire' is a Killers-esque piece of pop-infused indie, with a more full sound than the rest of the album. While 'Love By Mistake' features a ringtone sound effect at the beginning, and is generally one of the more idiosyncratic tracks here. The melody of the ringtone is incorporated into the rest of the track, under a steady drum beat. It's definitely quirkier than the rest of the album.
Overall, it's an adequate release to the point it feels unfair that Bad Suns don't receive the same level of recognition the rest of the sub-par, beige indie-pop-rock pack do. Hopefully, that will change with 'Mystic Truth'.
3.5/5
'Mystic Truth' by Bad Suns is released on 22nd March on Epitaph Records.
Bad Suns links: Website | Facebook | Twitter | Instagram
Words by Adam England (@garageflowrr)