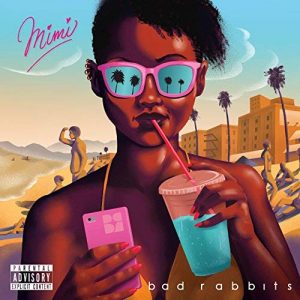 Massachusetts' Bad Rabbits have been enigmatic throughout their decade-long career. Relishing in elements of funk, pop and alt-rock, they've managed to pique the interests of big names. From Deftones' Chino Moreno to Arsenio Hall, heads have turned for this band, but still they've struggled to make it big. 'Mimi', their third album, sees them try something bold and fun to make a different mark.
While they've always had a strong pop influence, from the first glitzy chords of the title track its easy to spot that they've clutched onto the 80's throwback electro wave that had been tapped into conservatively until now. Perhaps the most powerful thing the group takes from this is unbelievably catchy chorus hooks. The pining whirlwind of "Mimi"s and "You"s makes for an irresistible earworm, even with the awkward dub transition in the final section.
This carries over to the album's best moment, 'Mysterious'. Despite being far removed from the rock heritage the group's developed, fans of names like N.E.R.D will fall for the aggressively paced basslines and sharp vocal delivery. Guitars spring around the track with flare, dancing between the electronics that fill it out. It's fun, simple, and brilliantly concise.
It feels almost too easy to make a comparison with something like Paramore's last album, which similarly saw a drastic change towards this retro-friendly song-writing approach. Two very similar projects that see their group reborn, but while Paramore looked to re-stance themselves musically, Bad Rabbits feel like they've taken themselves where they were always progressing towards with each of their releases.
Relishing in the raw entertainment of their funk and disco-infused music, this feels like what they were supposed to do. Unfiltered, shimmering party rock, with no strings of pretention attached. But by focusing so hard on scratching the fun itch, it doesn't impress on a technical level like their older, more rock-influenced work did. Bad Rabbits are certainly back though, and on their own light-hearted terms too.
3.5/5
Bad Rabbits links: Website | Facebook | Twitter | Instagram
'Mimi' by Bad Rabbits is out now on InGrooves.
Words by Sam Seaton (@citrus_music_)