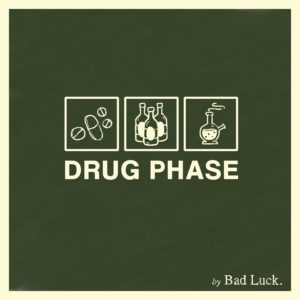 Anchored by brothers Dominick and Joe Fox, Bad Luck. disappeared for a while.
After the promise but also now distant memory of 2014 debut album 'Cold Bones' and EP 'Noise In Your Head' the following year, the Long Island band – originally a solo vehicle for the younger sibling, Dominick – rather sunk into obscurity. A small, but devoted following kept up hope that new music would surface soon.
'Drug Phase' answers those prayers with a six-track offering full of intent, the group, for want of a less clichéd expression, sounding like they never left. The incisive urgency of 'Impressive Depressive' is striking and calculating, Dominick cutting through electric riffs and sounding like a youthful Adam Lazzara with just a tinge of the older Adam Lazzara's rough edges.
Taking Back Sunday remain a useful reference point, but 'Mean Dudes' doesn't merely evoke the spirit of Bad Luck.'s fellow Long Islanders, it is a joy, with a smart melody and deceivingly simple hook, while 'Sheep Song''s restraint and handclaps make for an infectious lament of absent serotonin.
That 'Wish We Still Talked' is firmly the longest track at 3:33 is symptomatic of the kind of no-fuss manner 'Drug Phase' is delivered in, but it never feels rushed. The track itself might just be the strongest of all, utilising momentary silence well and displaying a strong sense of dynamics, while still being a straight-up pop-punk banger.
The credibility of Bad Luck.'s return is such that when they include a token acoustic ballad in 'P.S. Wiffle Ball', again it is with genuine quality and assuredness. The Foxes are not averse to carrying a whole song on the back of a modest, whistled motif,closing the EP rather poignantly.
If you are going to traverse ground walked many times before, you must follow the most hallowed of footsteps, and Bad Luck. combine stellar influences with abundant talent to produce the impressive (not at all depressive) 'Drug Phase'.
4/5
'Drug Phase' by Bad Luck. is out now on Take This To Heart Records.
Bad Luck. links: Facebook | Twitter | Instagram | Bandcamp
Words by Peter Stewart (@PeteStew_)