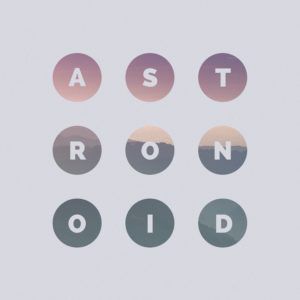 When choosing a band name, you want something that defines who you are and encapsulates your sound. In that respect Boston quartet Astronoid chose pretty well. When you hear their name, you immediately think astronomically, with huge crushing undertones, which isn't a bad description of the sound on their self-titled sophomore record.
2016 brought the band critical success with their debut 'Air'. If you imagine My Bloody Valentine getting bored of moping around, recruiting a metal drummer and deciding to explore the universe, you're not so far away. It's a similar proposition here, 'dream-thrash' is what the band call their music and no one is going to argue with that. This time around the dreamy shoegazing has been enhanced, but the metal elements certainly haven't gone away. In fact, the album's best moments lean heavily on the metal grandeur, be it the solo that rips across 'A New Color' or the strong sense of melody that defines 'Fault'.
Notable throughout the nine-song set is Matt St. Jean's drumming. With the other instruments (including Brett Boland's high registered vocals) creating a wall-of-sound, they really stand out and add drive. However, when he's really pummelling the kit, it can be overpowering, the beauty of 'I Wish I Was There While The Sun Set' gets almost trampled.
With a likeable overall sound, the album has some true highpoints. 'Lost' starts out with delicate guitar part, holds your attention with the riff running throughout and the soaring vocal is beautiful. Yet, elsewhere, they let songs slip through their fingers. 'Breathe' and 'Water' so are so awash with swirling effects that the songs become indistinct smears. This is something the band neatly sidestep on 'Ideal World' by punctuating it with stop/start riffs that revel in the space and arguably create the album's highlight.
Contradictory as it might sound, when Astronoid's swirling music is grounded, it really soars. It's a good record but a tighter grip would have made it a great one.
3.5/5
'Astronoid' by Astronoid is released on 1st February on Blood Music.
Astronoid links: Website | Facebook | Twitter | Instagram | Bandcamp
Words by Ian Kenworthy (@WhisperingSand)