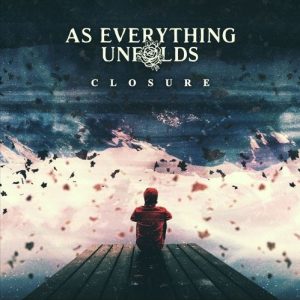 Frontwomen have been showing the boys how it's done for a while now and As Everything Unfolds' Charlie Rolfe is no different. Pardon the cliché, but she's a powerhouse. With an impressive range and faultless tone, her clean vocals are loud and clear, and her hard vocals are growling, haunting additions.
Driving opener '17:10', Rolfe's battle-cry controls a polished performance from the rest of the band. The track could go on for another minute or two and nobody would complain, almost too short at way less than three minutes long. Follow up 'Despondency' begins with unrelenting guitars, progressing to an upbeat drumbeat and an atmospheric, void-filling presence. Its high-octane energy doesn't falter for a moment and it feels as though it's just going to keep going all the way to the end, but a quieter moment breaks up the tempo and adds another dimension.
Sam Stolliday – of As Everything Unfolds' tourmates The City Is Ours – features on 'Divided', a frustrated, anger-driven, no holds barred, torrent of determination. His screams add another layer to the track and the result is a commanding call to arms with a killer refrain. That attitude continues during 'You Will Be', pointing fingers and accusations. A fragility is found as Rolfe sings "I will bow in the light and cower in the dark", revealing a vulnerability which makes the band even more appealing. There's a softer side among the resilience.
'Centuries' saves the heaviest song until last, bringing the EP to a soaring end. As Everything Unfolds might not yet be as well-known as their peers just yet but if what they've done so far is anything to go by, it won't be long until they surpass their popularity. It's time for them to get noticed.
4/5
'Closure' EP by As Everything Unfolds is released on 19th October.
As Everything Unfolds links: Website | Facebook | Twitter | Instagram
Words by Kathryn Black (@kathrynblack07)