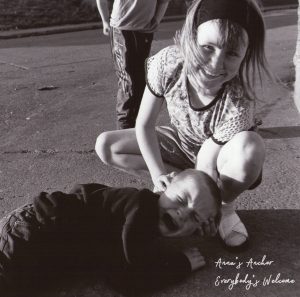 Self-described as "honest songs for honest people", Anna's Anchor is the creation of Limerick-based singer-songwriter Marty Ryan. Those new to Anna's Anchor will immediately sense the DIY ethic and indeed, honest nature of Ryan's work. His second full-length record and first signed to Failure By Design Records, 'Everybody's Welcome' may have a little more sheen to it than previous material, but the heart of Anna's Anchor remains.
There is an endearing scrappiness to the way '8 Hours In Stansted' hurries along, Ryan's warm baritone elevating the fairly by-numbers emo-influenced guitar and drums. 'White Washed Corridor' and 'Precautionary' both exhibit abundant hooks and the harmonies of Clare O'Brien of Randolf & The Crokers, whose presence on several tracks is complimentary.
One of those is the highlight 'Jonny Cash Was a Punk', the best of several acoustic-led moments. A gorgeous melody allows Ryan's accent to slip through as if briefly opening his heart that bit more. Album opener 'Executive Summary' begins with similarly solo guitar, but the build to rousing crescendo illustrates both sides of Anna's Anchor.
'Everybody's Welcome' was written by Ryan in an isolated County Cork cottage, and if that recalls the now-legendary backstory to Wisconsin indie-folk outfit Bon Iver's debut, their influence is heard on 'For The Parish', layers of vocals from Ryan and O'Brien forming a chorus over a repeated guitar motif.
And there is an argument for the alternative-indie and acoustic elements as being the real backbone here. 'For The Parish' and reverb-drenched closer 'Appendix A B C' certainly stick in the mind longer than the clattering emo that precedes them, which, although perfectly fine, does blend together somewhat.
You would have to have a heart of stone to dislike 'Everybody's Welcome', which is defined by its scrappiness and imperfection. Were it flawless, everything that is enjoyable about it and Anna's Anchor would be undermined. Marty Ryan will yet fine-tune his skills further, but he can certainly be proud of this.
4/5
'Everybody's Welcome' by Anna's Anchor is released on 14th September on Failure By Design Records.
Anna's Anchor links: Website | Facebook | Twitter | Instagram | Bandcamp
Words by Peter Stewart (@PeteStew_)