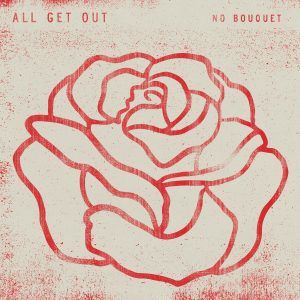 Nathan Hussey returns with the release of 'No Bouquet', the fourth record from his emo project All Get Out that is completed by gun-for-hire guitarist Kyle Samuel. Tied up with the floral image of the album is All Get Out's long album cycles – it is three years since 'No Bouquet"s predecessor, 'Nobody Likes a Quitter', while before that 'The Season' was 2011. Like a flower, they bloom only to disappear for long periods between.
And on the opener 'Rose', Hussey remains happy to operate on his own terms: "Take your time if you want/they walk ahead and you catch up." Its murky sound would be at home on any number of seminal emo releases of the last 15 years, but the rays of light that permeate an uplifting chorus are more representative of 'No Bouquet' as a whole.
'Value' finds Hussey's two contrasting vocal modes interplaying well. His soft Carolina inflections in the verses have a folky Americana streak, but pained yells elsewhere are more standard emo fair. The prior setting effectively mimics a gorgeous Samuel lick on 'First Contact'. 
Such melodical coordination between voice and guitar is also what makes 'First Repair' so dynamic, while layers of overdriven tones give the wonderful 'However Long' legs to add to Hussey's emotional heft: "However long it's gonna be/I can always guarantee I'm gonna miss you."
Contrast and balance are at the album's heart, typified no better than 'You'll Survive's clattering opening progressing to all Hussey's vocal styles at once, before a raft of penetrating melodies and an affecting, soft finish.
To be 'underrated' is to be damned with faint praise, but it's an appropriate tag for All Get Out, on evidence of 'No Bouquet'. Hussey's work has never been better, but the value of Kyle Samuel too should not be underestimated on an uplifting, assured record.
4/5
'No Bouquet'  by All Get Out is released on 30th November on Rude Records.
All Get Out links: Website | Facebook | Twitter | Instagram | Bandcamp
Words by Peter Stewart (@PeteStew_)