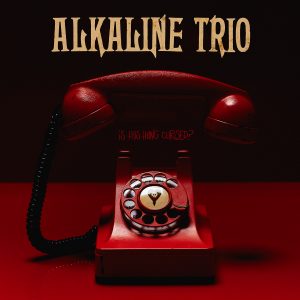 Sometimes it's good to step away and take a breather. Having churned out studio albums almost routinely for over a decade, Alkaline Trio needed a break. While 2013's 'My Shame Is True' carried itself with all the expected Alk3 trademarks, it lacked longevity.
Fast forward five years and various outside projects later, the Chicago-based band have returned with 'Is This Thing Cursed?' Fuelled by renewed vigour, '…Cursed' has a sense of welcomed familiarity to longtime fans. Gloom-filled lyricism? Check. Guitarist Matt Skiba and bassist Dan Andriano splitting, and occasionally sharing, vocal duties? Check. Dark, melodic punk anthems? Check.
The opening pairing of the title track and 'Blackbird' quickly reinforce this familiarity, before 'Demon and Division' thrives in its instrumentation with Skiba and Andriano brilliantly dividing vocals while Derek Grant's pounding drum work isn't to be ignored.
Even though '…Cursed' ticks all the right boxes; 'Heart Attacks' and 'Worn So Thin' are concise punk blasts of vintage Trio, this isn't "just another Alkaline Trio album". For example, the Andriano-led songs ('Little Help', 'Pale Blue Ribbon' and 'Stay') take an optimistic folk-esque approach. Later on, the Skiba-led closing track, 'Krystaline', proves to be an atmospheric, acoustic tale of a dying relationship, full of compelling and heartfelt lyricism.
For the most part, '…Cursed' is a well-rounded record with songs such as 'Goodbye Fire Island' and 'I Can't Believe' showcasing Trio at their best. Thriving with urgency, the latter wouldn't sound out of place on 'Crimson' with Skiba's trademark lines ("he's no longer breathing but he's still singing along"). Whereas the former sees Skiba reflects on the disastrous Fyre Festival; "abandoned here and broken".
So where does 'ITTC?' lie in Trio's catalogue? They're not quite back to their best, but it's certainly an improvement on the fatigued output that's preceded it. It may not entice new listeners, but for longtime fans, this is a welcomed return in the right direction.
3.5/5
'Is This Thing Cursed?' by Alkaline Trio is digitally released on 31st August on Epitaph Records.
Alkaline Trio links: Website | Facebook | Twitter | Instagram
Words by Sêan Reid (@SeanReid86)