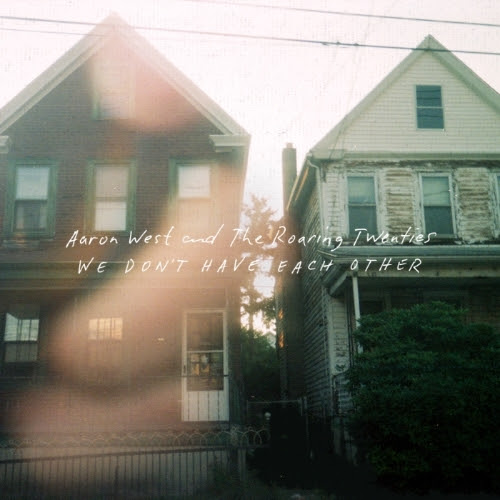 When The Wonder Years' frontman Dan 'Soupy' Campbell announced that he would be putting out a solo project through Hopeless Records it got quite a lot of people really quite excited. The prospect of what Campbell may create without his Wonder Years bandmates was an intriguing one, a sense that only increased as he began to reveal the concept behind his new work. An immersive and captivating lyrical narrative has long been the hallmark of Campbell's writing, but in 'We Don't Have Each Other', the debut release of his alter-ego Aaron West and The Roaring Twenties, this ability has been taken to whole new heights.
Campbell has openly referred to the record as "a character study" in interviews, although this doesn't even come close to doing the album justice. In writing 'We Don't Have Each Other', Campbell has created a vivid, tangable world and life for his deeply flawed yet desperately endearing protagonist Aaron West. He then drops himself squarely into the shoes of this troubled and near-broken man and proceeds to put West and the listener relentlessly through the emotional wringer. The results are harrowing, inspiring, chill inducing and immeasurably beautiful in their execution.
In many ways musically the backdrop to Aaron's struggles aren't too far removed from the softer moments from the Wonder Years' back catalogue. Albeit given a surprisingly timeless Americana feel by the introduction of bluegrass and folk-inspired brass sections, harmonicas, banjos and steel and slide guitars. Some inspired production choices from The Early November's Ace Enders. Allows these elements to give enough sense of life and feeling, while being understated enough to not detract from the narrative or its vocal delivery.
Getting the opening track of an album right can be tricky at the best of times. Throw in the need to establish multiple central characters, their physical and emotional in place life and set in motion the key events of their story, as well as setting mood and tone, and it's clear Campbell has set himself a tall order to get things going. However 'Our Apartment' does all of this with aplomb. The track starts with West wistfully recalling the details of the home and life he shared with his soon to be ex-wife Diane with a down beat low key delivery over steady finger picked acoustic guitars. The song quickly swells with some deceptively cheerful wind sections and a jaunty banjo line belying West's torment and his fears over where his life is leading.
'Grapefruit' furthers West's slide into sadness and disarray, tying to evoke a higher power's help to explain why he has been abandoned by both his god and the woman he loves. The track is the first to refer to the heart-breaking event in West's life that has triggered the collapse of his world, and aided by crashing crescendos of lightly distorted guitars and cymbals played off against slower melancholic acoustic sections, creates inescapable feelings of sorrow, anxiety and trepidation on the part of the listener.
The tumbling angst-ridden riffs of 'St Joe Keeps' sees West still struggling to find his feet and slow his descent into despair and alcoholism. The vivid descriptions of West's return to his Mother and the catholic iconography of her home, show further flashes of the attention to detail and place that makes the world in which the album exists seem so real.
Lead single 'Divorce and The American South' is West's plaintive and desperate last appeal for his wife to return; mid-tempo strummed acoustic chords underpinned by haunting slide guitars soundtracking his admission of his faults and a battle to become the better person West believes he needs to become. More so then any other track this pulls at the heartstrings and creates a huge sense of empathy, leaving you rooting for West to overcome his demons and win back what he has lost.
From this point forward the record sees it's protagonist begin to accept and make sense of his lot, the music subtly mellowing and becoming more soothing in tone to accompany this change in mentality.
'Carolina Coast' provides the record's most reflective and ambivalent moment as the story begins to draw itself to a close. Unusually Campbell chooses to draw his soul-searching, life-affirming tale to a close with a cover of The Mountain Goats' 'Going To Georgia'. This turns out to be an inspired choice, bringing the story to a suitably conflicted, but in the end undeniably positive conclusion. The track is by far the simplest on the record musically, featuring just Campbell, his acoustic guitar and some subtly place organ swells that draws 'We Don't Have Each Other' to a nicely understated but cautiously optimistic close.
In 'We Don't Have Each Other' Campbell has done something really quite remarkable, creating a world and a character so rounded and complete, and recounted in such minute detail, that his audience can't help but feel every ounce of despair, futility and confusion that conflicts West's mind in the keenest of ways. Campbell has shown beyond any doubt that he is a master storyteller and one of the most unique and gifted lyricists anywhere on the planet. There is artistry here that even the likes of Dylan or Hemmingway would be proud of.
5/5
'We Don't Have Each Other' by Aaron West and The Roaring Twenties is out now on Hopeless Records.
Aaron West and The Roaring Twenties links: Website|Twitter

Words by Dane Wright (@MrDaneWright)