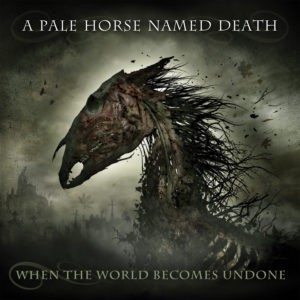 Sal Abruscato is a man of many talents. Having just completed his four-year commitment as drummer in Life of Agony, he returns to his passion project A Pale Horse Named Death as frontman and guitarist. Continuing where they left off, the band are trampling out of the wilderness with new album 'When The World Becomes Undone'.  
Having spent four years plotting their return, Abruscato has tapped a rich seam of ideas, creating a witches' brew of a record, favouring longer-form songs and atmospheric guitar. Though leaning heavily on a stoner-metal sound, the overall approach is still shaped by darker doomy elements, broken up by more traditional metals solos and choruses. The scuzzy guitar lines of single 'Love The Ones You Hate', show off a streamlined version of this sound. The song also underscores the band's inventiveness by appearing to end, only to come back for a massive solo-based outro. This is a marked contrast to the weighty gloom of 'Splinters' with its persistent, almost drunken, refrain and mournful guitars. 'We All Break Down' throws another curveball by mixing in upbeat music while retaining the album's regretful tone.
As with any band describing itself as the "brainchild" of a drummer, the rhythm section is of real note. Johnny Kelly's thumping tom fills shape the structure of the longer-form songs (particularly 'End of Days') and provide gravity when the guitarists threaten to wander off the path.  Eric Morgan's huge dung-ing bass sound is also given its own space, notable on highlight 'Fell In My Hole' and the powerful drive it lends to 'Vultures'.
Despite the album's strengths, Abruscato's tight grip on the reigns makes for some unwieldy decisions. For example, the title track keeps heaping on ideas until it splits at the seams and toward the album's close the drone-y nature of the songs can become overpowering. However, for the most part, 'When the World Comes Undone' sustains its creativity and is a varied and atmospheric listen.
3.5/5
'When the World Comes Undone' by A Pale Horse Named Death is released 18th January on SPV/Long Branch Records.
A Pale Horse Named Death links: Website | Facebook | Twitter
Words by Ian Kenworthy (@WhisperingSand)