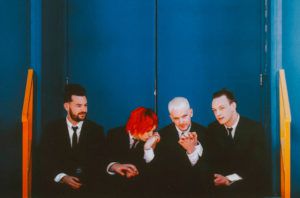 As the end of the year wind down continues, and with December being fairly quiet on the release front, today could considerably be the last "RTW" roundup of the year.
Nevertheless, there are some notable releases worth checking out. Admittedly, The 1975 aren't a band we probably haven't covered much in the past but with their third album, 'A Brief Inquiry into Online Relationships', getting plain of attention, we couldn't ignore it.
For those wanting something a bit more "Already Heard friendly", there's 'Afterlife', the new album from Ohio punks Light Years, former Yellowcard frontman William Ryan Key releases his second EP ('Virtue'), Brighton sad emo/pop-punks H_ngm_n deliver 'I Don't Want To Go Home' and rising London-based indie rockers River Fury release their debut EP – '5 Year Plan'. While Sheffield rock legends Def Leppard offer a 'Best Of' collection ahead of their headline spot at Download Festival 2019.

Follow us on Spotify for more playlists.
The 1975 – A Brief Inquiry into Online Relationships
Def Leppard – The Story So Far – The Best Of
William Ryan Key – Virtue EP
Light Years – Afterlife
River Fury – 5 Year Plan EP (★★★ Review/Video Premiere)
H_ngm_n – I Don't Want To Go Home EP (Song Premiere)
Kevin Devine and John K. Samson – Devinyl Splits No. 10.
The Rocket – Another Reason Not To Fear The Sky
RavenFace – Breathe Again (★★.5 Review)
Stand Alone – Falling, Faster EP (Under The Radar review)
Battalions – Forever Marching Backwards (★★★ Review)
Two Trains Left – Sorry and Pathetic EP
The Intersphere – The Grand Delusion (★★★ Review)
Frog – Whatever We Probably Already Had It (Under The Radar review)
BillyBio – Feed The Fire (Under The Radar review)
Beans On Toast – A Bird In The Hand*
* Released December 1st