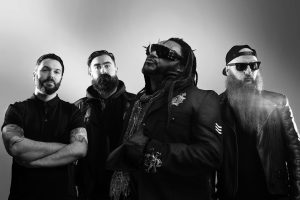 After a hectic month for releases, April ends on a high with the likes of Skindred and Hawthorne Heights returning with new records. While sludge specialists Boss Keloid deliver an abundance of twisting riffs with 'Melted On The Inch'.
As for up-and-coming names, West Midlands emo-rockers Dearist release their second album, 'Sonder', Norwegian summery indie-rockers Spielbergs share their debut EP ('Distant Star'), Tampa Bay post-hardcore outfit LIMBS deliver their first full-length; 'Father's Son'.
There are also notable releases from God Is an Astronaut, Swiss Army, Brand New Friend, Toundra, Bad Breeding, Elessar, Eva Plays Dead, GRAVVES and Must Build Jacuzzi.

Follow us on Spotify for more playlists.
Skindred – Big Tings
Boss Keloid – Melted On The Inch (Stream)
Hawthorne Heights – Bad Frequencies
Dearist – Sonder
God Is an Astronaut – Epitaph (Stream)
Spielbergs – Distant Star EP (★★★.5 Review/Stream)
Eva Plays Dead – The Fix EP ( Review)
LIMBS – Father's Son
Swiss Army – Paris Mountain
Brand New Friend – Seatbelts For Aeroplanes
Bad Breeding – Abandonment
Toundra – Vortex ('The Place We Call Home' feature)
GRAVVES – Oh, The Joy ('Hello Sailor' video premiere/Stream)
Elessar – Is This All We Are EP
Life In Vacuum – All You Can Quit (Stream)
Must Build Jacuzzi – Last Place ('Track Guide' feature and '3rd Out of 3 Ain't Bad' song premiere)
Food Court – Good Luck
Midas Fall – Evaporate (Stream)
Reuther – Like a Ghost (Stream)
Elephant Parallax – Loam & Sky
What releases are you looking forward to hearing? Let us know in the comments.
Want to see your release appear in a future "Released This Week" round-up post? Submit it here. Additionally if you'd like us to possibly review a forthcoming release, please e-mail us at [email protected].