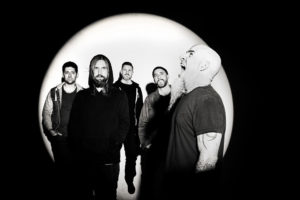 After a short holiday, 'Released This Week' has returned. And what a week to make a comeback as the final weekend of April is packed with new releases.
If you're looking to avoid spoilers for 'Avengers: Endgame', then this list of new music is sure to keep you distracted.
There are returns from The Damned Things, The Mountain Goats, Trade Wind, and New Years Day. While there is a plethora of noteworthy albums and EP's from emerging names such as Gloo, Ceres, Lonesome, Death Blooms and Best of Enemies.

Follow us on Spotify for more playlists.
The Damned Things – High Crimes (★★★ Review)
Trade Wind – Certain Freedoms (★★★.5 Review)
The Mountain Goats – In League With Dragons (Stream)
PAWS – Your Church On My Bonfire
New Years Day – Unbreakable
Death Blooms – You Are Filth EP (★★★★ Review)
Craig Finn – I Need A New War
Lonesome – To Myself, From Myself EP (★★★.5 Review/"How We Wrote…" feature)
Gloo – Stop and Stare EP
Ceres – We Are a Team (★★★★ Review)
SPQR – Low Sun Long Shadows EP (★★★ Review)
Best of Enemies – A Fear That Comes Around EP (★★★ Review)
Lonely Robot – Under Stars
Dangers of Love – Dangers of Love EP
Telltale – Timeless Youth EP
The Last Martyr – Creatrix EP
Lord Dying – Mysterium Tremendum (Stream)
All Hail The Yeti – Highway Crosses (★★.5 Review)
Lost in Kiev – Persona (Stream)
Edward In Venice – Empathy
Mammoth Penguins – There's No Fight We Both Can't Win
Nine Shrines – Retribution Therapy
Slow Renewal – Slow Renewal EP
Illyria – The Carpathian Summit
Belzebubs – Pantheon of the Nightside Gods
Danko Jones – A Rock Supreme
Deference / Vanity – Condemned To Repeat EP