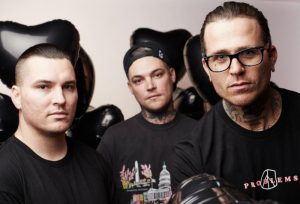 Although many people will be spending their Bank Holiday weekend as the Reading and Leeds Festival, for those not going, there's still a wealth of new music to hear.
Aussie metalcore group, The Amity Affliction lead the way with their sixth album – 'Misery'. While Alice In Chains return with 'Rainer Fog', their first album in five years.
Elsewhere, Philadelphia's Nothing and Jesus Piece both have new full-lengths with the release of 'Dance On The Blacktop' and 'Only Self' respectively.
There are also new releases from Plain White T's, Wilson, Send Request, Leeched, Abandoned By Bears, The Frights and more.

Follow us on Spotify for more playlists.
The Amity Affliction – Misery
Alice In Chains – Rainer Fog
NOTHING – Dance On The Blacktop
Jesus Piece – Only Self (★★★★.5 Review)
Plain White T's – Parallel Universe
Wilson – Tasty Nasty (★★★.5 Review)
Send Request – Perspectives (★★.5 Review)
Actor Observer – Pareidolla
Leeched – You Took The Sun When You Left
Abandoned By Bears – Headstorm (Stream)
The Frights – Hypochondriac
PanicWolf – Paralyze (★★★.5 Review)
Calm For The Restless – Finish What You Started (★★★ Review)
June Divided – Body Wars EP
Only On Weekends – Another Wasted Night