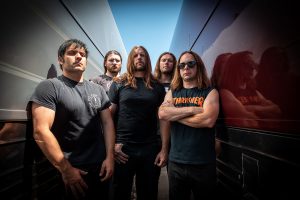 Even though it's "Black Friday" and consumers will be frantically hunting for bargains, there are still some new music releases to check out.
We'll admit it's not the busiest of weeks, nevertheless, new albums from Boston, Massachusetts' metalcore band Unearth, British up-and-comers The Wild Things and Berlin-based indie art-punk band Art Brut should keep you entertained. While Liverpudlian duo Rival Bones deliver a new EP in the form of 'Strangefruit'.
Follow us on Spotify for more playlists.
Unearth – Extinction(s) (★★★★ Review)
Art Brut – Wham! Bang! Pow! Let's Rock Out!
The Wild Things – You're Really Something
Rival Bones – Strangefruit EP (★★★★ Review)
The Disaster Area – Alpha // Omega
Slash Fiction – Flowers EP
pawncapture – I Need An Escape EP*
* Released Saturday, 24th November