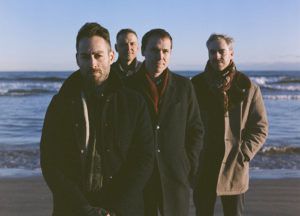 It's another busy week of releases that is led by new records from American Football and La Dispute. While black metal blues collective Zeal and Ardor showcase their live performance prowess with 'Live In London'.There's also a new EP from The Xcerts as they prepare a run of headline shows as well as dates supporting Busted.
As for rising new bands, look no further than Crows. The London quartet finally deliver their debut album – 'Silver Tongue', which impressively mixes post-punk, taut noise-rock and shoegaze. While new EP's from Parting Gift and Follower are well worth checking out.

Follow us on Spotify for more playlists.
American Football – American Football (LP3) (★★★★.5 Review)
La Dispute – Panorama (★★★. Review)
Zeal and Ardor – Live In London
Parting Gift – Ensom EP (★★★★ Review)
Holy Fawn – Death Spells
The Xcerts – Wildheart Dreaming EP (★★★ Review)
Follower – Against the Ropes EP (★★★.5 Review/'Track Guide' feature)
Crows – Silver Tongues (★★★★★ Review)
Mötley Crüe – The Dirt Soundtrack
Bad Suns – Mystic Truth (★★★.5 Review)
The Mute Gods – Atheists and Believers
Jaret and Kelly – Sittin' in a Tree
Dream Ritual – Trips Around The Sun EP
From Sorrow To Serenity – Reclaim
Tempel – Tempel
Truth Corroded – Bloodlands
Sleep In. – The Stars On Your Ceiling (★★.5 Review)
Hana Piranha – Waiting To Burn (★★ Review)
Problem Daughter – Grow Up Trash
Heavensake – Post-Chroma