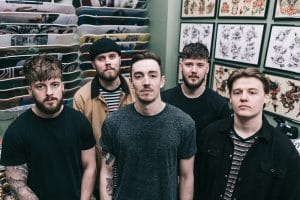 After a hectic set of releases last week, today seems quite a calmer affair. However, with new releases from Trash Boat, Daron Malakian and Scars On Broadway, Wild Pink, and Jungle Rot.
Elsewhere, While She Sleeps give their impressive 'You Are We' record the special edition treatment. Eisley put an acoustic spin on 'I'm Only Dreaming…' and God Alone, led by The Devil Wears Prada singer Mike Hranica, release 'Bent Shoulders'.

Spotify | Apple Music | Deezer
Trash Boat – Crown Shyness (★★★★.5 Review/Interview)
While She Sleeps – You Are We (Special Edition)
Daron Malakian and Scars On Broadway – Dictator
God Alone – Bent Shoulders
Wild Pink – Yolk In The Fur
Eisley – I'm Only Dreaming… Of Days Long Past
The Agony Scene – Tormentor
Jungle Rot – Jungle Rot
Epica – Epica vs. Attack On Titan EP
T-Shirt Weather – Dinner and a Show
The Home Team – Better Off
Lovebites – Social Hall EP
What releases are you looking forward to hearing? Let us know in the comments.