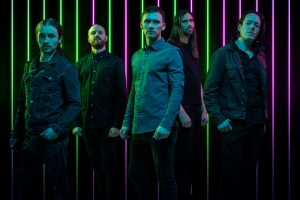 As the UK goes through a heatwave (it'll probably have disappeared by the time you read this), there is a ton of new releases to be your soundtrack while you enjoy the sun while you can.
Leading the way is the return of names such as A Perfect Circle, Tesseract, Pennywise, Cancer Bats and Black Stone Cherry. They all release new albums today.
In terms of up-and-coming bands, there is plenty of choice as itoldyouiwouldeatyou, Charmer, Haggard Cat, Shields, and Home Wrecked are just some of the names that make up this week's extensive list of releases.
In addition to today's releases, we've included a selection of releases that will be part of Record Store Day 2018 tomorrow (April 21st).

Follow us on Spotify for more playlists.
A Perfect Circle – Eat The Elephant
Tesseract – Sonder (★★★★.5 Review)
Cancer Bats – The Spark That Moves
Black Stone Cherry – Family Tree
Haggard Cat – Challenger (★★★.5 Review)
Pennywise – Never Gonna Die
itoldyouiwouldeatyou – Get Terrified EP (★★★.5 Review/Stream)
Charmer – Charmer (Stream)
Shields – Life In Exile
Poly-Math – House of Wisdom | We Are The Devil
From Ashes To New – The Future
Home Wrecked – Try What You Want, Just Make Sure It Works EP (Stream)
The Kenneths – EX EP
Sun Arcana – Acoustic Sessions EP
Awooga – Conduit
SEASONS – Chapters EP ('Influences' Playlist)
Dissonants – Vultures EP
Edenthorn – Exist (Stream)
OXBLOODS – Collisions EP ('Clinton' song premiere)
Mixtape Saints – Everything We Used To Be (Stream)
The Noble – Abolitionism
King Goat – Debt of Aeons
Gutlocker – Cry Havoc! EP
The Great Heights – rad-pop
Long Way Down – Swinging For Fences
Record Store Day 2018
(A full list of releases can be found here)
AC/DC – Back In Black
Bruce Springsteen – Greatest Hits
Disturbed – The Lost Children
Electric Wizard – Wizard Bloody Wizard
Ginger Wildheart – Paying It Forward EP
Killing Joke – Absolute Dissent
L7 – fast & frightening
Led Zeppelin – Rock And Roll
Linkin Park – One More Light Live
Mallory Knox – Signals
Mastodon – Emperor of Sand (picture disk)
Mogwai – Ten Rapid (Collected Recordings 1996-1997)
Motörhead – Death Or Glory
Motörhead – Heroes (picture disk)
The National – Boxer live in Brussels
Phil Campbell And The Bastard Sons – Silver Machine
The Pineapple Thief – 8 Years Later
Pink Floyd – The Piper At The Gates Of Dawn
Quicksand – Triptych Continuum
Rage Against The Machine – Democratic National Convention 2000
Ramones – Sundragon Sessions
Sigur Rós – Route One
Sigur Rós – Liminal Remixes
Soundgarden – A-Sides
Stone Sour – Hydrograd Acoustic Sessions
The Stooges – The Stooges (The Detroit Edition)
Tim Armstrong – A Poet's Life
What releases are you looking forward to hearing? Let us know in the comments.