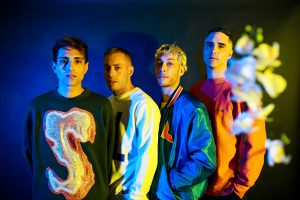 As a busy October rolls on, today's round of releases is considerably a mixed bag with impressive underground bands such as Hellions, Our Hollow, Our Home and As Everything Unfolds alongside heavyweights Disturbed and Soulfly being the most noteworthy.
We also bid farewell to Seattle's Minus The Bear as they release their final EP – 'Fair Enough'. While some bands are departing, others are on the rise. Hotly tipped classic rock revivalists Greta Van Fleet deliver their debut album in the form of 'Anthem of The Peaceful Army'.
Elsewhere, there are releases from Americana-punks Steady Hands, melodic rockers Delayed Departure, Shook Ones, Rise of the Northstar, Wolf Girl, Just About Done and more.

Follow us on Spotify for more playlists.
Hellions – Rue (★★★★★ Review)
Disturbed – Evolution
Soulfly – Ritual
Greta Van Fleet – Anthem of The Peaceful Army
Minus The Bear – Fair Enough EP
Our Hollow, Our Home – In Moment // In Memory
Steady Hands – Truth In Comedy (Stream)
As Everything Unfolds – Closure EP (★★★★ Review/Stream)
Shook Ones – Body Feel (★★★ Review)
Cloud Nothings – Last Building Burning (★★.5 Review)
Delayed Departure – Your Colours EP ("The Place We Call Home" feature)
Chthonic – Battlefields of Asura
Rise of the Northstar – The Legacy of Shi
Wolf Girl – Every Now & Then
Just About Done – I Am Getting By EP
Northward – Northward
Mercy Union – The Quarry
The Living – Drinking From The Trough Of A Tyrant's Piss
The Ever Living – Herephemine (Instrumental)
Internal Bleeding – Corrupting Influence