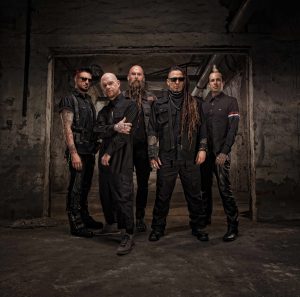 While some are excited about some wedding happening tomorrow, we think you should be excited about some of today's new releases. Admittedly, there's a lot to choose from.
Besides new albums from heavyweights such as Five Finger Death Punch, At The Gates and Burn The Priest (Lamb of God), there is a host of releases from emerging names; Dream State, Blanket, I, The Mapmaker, West Thebarton and Arms & Hearts.
Whereas New Found Glory, The Front Bottoms, Beach Slang (in the form of Quiet Slang), Now, Now, Big Ups, Colour Me Wednesday, and Remember Sports all have new music out today.

Follow us on Spotify for more playlists.
Five Finger Death Punch – And Justice For None
At The Gates – To Drink From The Night Itself
The Front Bottoms – Ann EP
Quiet Slang – Everything Matters But No One Is Listening
Burn The Priest (Lamb of God) – Legion: XX
New Found Glory – Makes Me Sick Again
Dream State – Recovery EP ('Slam Dunk Bites' interview)
Now, Now – Saved (★★★★ Review)
Arms & Hearts – Wires Crossed EP
Blanket – How To Let Go
Colour Me Wednesday – Counting Pennies in the Afterlife (★★★★ Review)
Elder Brother – Stay Inside
I, The Mapmaker – Searching EP
West Thebarton – Different Beings Being Different ('Music by Numbers' feature)
Big Ups – Two Parts Together
Remember Sports – Slow Buzz
MIGHTY – MIGHTY
Dream The Electric Sleep – The Giants' Newground ('Black Ink' song premiere)
Hidden Hospitals – LIARS
Bury The Kings – V EP
Morag Tong – Last Knell of Om