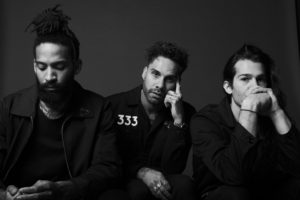 We're halfway through January and after being eased in into 2019, this week truly sees the "new year, new music" initiative go into overdrive.
Amongst the array of fresh releases is the highly anticipated (and bloody good) debut album from Fever 333. While the other major releases come in the form of Papa Roach's 10th full-length as they ask 'Who Do You Trust?' along with new releases from Cane Hill, Pedro The Lion, Bowling For Soup, Arch Enemy, and The Twilight Sad.
There's also music from a variety of up-and-coming names. River Becomes Ocean follow up their spot in our list of '25 Bands to Watch in 2019′ with the release of 'A Motion Paralysed'. While Hold Close, and Commonwealth deliver their debut full-lengths.
Elsewhere, you can hear new releases from Lovebites, Young Culture, The End of the Ocean, A Pale Horse Named Death, Kadinja and Khaidian.

Follow us on Spotify for more playlists.
Fever 333 – Strength In Numb333rs (★★★★.5 Review)
Papa Roach – Who Do You Trust? (★★.5  Review)
Cane Hill – Kill The Sun (★★★.5 Review)
Pedro The Lion – Phoenix (★★★.5 Review)
Bowling For Soup – Older, Fatter, Still The Greatest Ever – Live From Brixton (★★★★.5 Review)
The Twilight Sad – It Won/t Be Like This All The Time
Arch Enemy – Covered In Blood
Hold Close – Time (★★ Review)
Commonwealth – Everyone Around Me (★★★.5 Review)
Lovebites – Clockwork Immortality (★★★ Review)
The End of the Ocean – -aire (★★★.5 Review)
River Becomes Ocean – A Motion Paralysed
Young Culture – (This is) Heaven
A Pale Horse Named Death – When The World Becomes Undone (★★★.5 Review)
Khaidian – Penumbra (★★★.5 Review)
Desert Clouds – Nothing Beyond The Cage
Bad Sleep – Bad Sleep
Kadinja – Super 90′