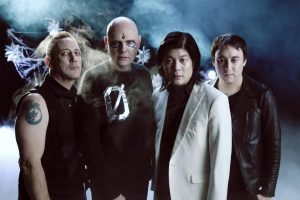 It's considered today is the last "big week" of new releases for 2018. And oh boy, is it an impressive list of albums and EPs.
For starters, the Smashing Pumpkins continue their reunion with the release of the awkwardly titled 'Shiny And Oh So Bright, Vol. 1 / LP: No Past. No Future. No Sun'. There are also returns from Memphis May Fire, Can't Swim, Andrew McMahon In The Wildness, Oxygen Thief, and P.O.D.,
While there are highly recommended debut full-lengths from itoldyouiwouldeatyou and Catch Fire.
If you're looking for emerging talent then releases Phoxjaw, Soeur, Portrayal Of Guilt, Castlefield and Karg aren't to be ignored.
One final noteworthy release is the retrospective collection from the late Chris Cornell.

Follow us on Spotify for more playlists.
Smashing Pumpkins – Shiny And Oh So Bright, Vol. 1 / LP: No Past. No Future. No Sun
itoldyouiwouldeatyou – Oh Dearism (★★★★.5 Review/Playlist" feature)
Can't Swim – This Too Won't Pass
Memphis May Fire – Broken (★★★.5 Review)
Catch Fire – Karma Owes Me A Lifetime Of Happiness (★★★★.5 Review/Stream)
Chris Cornell – Chris Cornell
Andrew McMahon In The Wilderness – Upside Down Flowers
Amon Amarth – The Pursuit Of Vikings 25 Years In The Eye Of The Storm
Oxygen Thief – Confusion Species
P.O.D. – Circles
Phoxjaw – Goodbye Dinosaur… EP (Playlist" feature)
Funeral Chic – Superstition (★★★★ Review/Stream)
Soeur – Fight EP (Interview/Stream)
Portrayal Of Guilt – Let Pain Be Your Guide (Stream)
Neurotic Fiction – Pulp Music (★★★ Review/Stream)
Crooked Teeth – Honey EP
Castlefield – Tunnel Vision EP (Already Heard EP Premiere)
22 – You Are Creating
Ginger Wildheart – G*A*S*S* Mark II
Azusa – Heavy Yoke (Stream)
Karg – Dornenvögel (Stream)
Hodera – Besides EP
Unwill – Can't Kill Me (Stream)
Not Ur Girlfrenz – New Kids In America EP
Goalkeeper – Bad Times Don't Last EP
Nita Strauss – Controlled Chaos
Jonestown – Dyatlov
Barbarian Hermit – Solitude and Savagery (Stream)
Atria – New World Nightmare
Novacrow – Criminal Mastermind
Divine Ascension – The Uncovering
Sigh – Heir To Despair