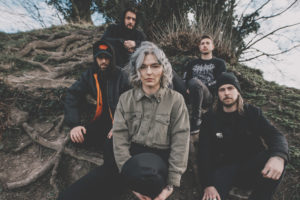 As March ticks along, this weeks round up of releases is a mixed bag. It's led by the vicious return of UK death metallers Venom Prison. Beach Slang and The Bouncing Souls also make brief returns.
While Deaf Havana give us a glimpse of their imminent UK tour with 'Live At Brixton Academy'. Angel Du$t show their jangly melodic side on 'Pretty Buff', and AFI's Davey Havok and Jade Puget give us another dose of their Blaqk Audio project.
There are also new releases from Any Given Day, Former Wrestlers, Pyrite Sidewalk, Vanish, Fallujah, Just Friends and more.

Follow us on Spotify for more playlists.
Venom Prison – Samsara (★★★★.5 Review)
Deaf Havana – Live At Brixton Academy
Angel Du$t – Pretty Buff
Beach Slang – MPLS EP
The Bouncing Souls – Crucial Moments EP
Blaqk Audio – Only Things We Love
Any Given Day – Overpower (★★ Review)
Former Wrestlers – Champion Of The World EP (★★★.5 Review)
Pyrite Sidewalk – rôr′shäk ('Clouds' song premiere)
Elizabeth Colour Wheel – Nocebo
Vanish – Familiar Faces
Fallujah – Undying Light
Nanami Ozone – NO
Just Friends – Nothing But Love
Blind Man Death Stare – Comin' in Hot