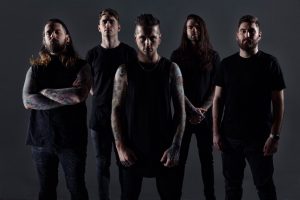 Although some of us are away at 2000trees this weekend, and while Friday 13th is considered unlucky, today is a stellar day for new releases.
For starters, there are impressive returns from Bury Tomorrow, Deafheaven, and Real Friends. All three are must-hear records.
Elsewhere, Between the Buried and Me release the second part of their 'Automata' record, a new look Chelsea Grin release 'Eternal Nightmare,' and Save Face and Between You & Me deliver their debut efforts.
There are also returns from Teen Agers, Lydia, Hopesfall, LTNT, and Like A Storm.
Bury Tomorrow – Black Flame (★★★★.5 Review)
Deafheaven – Ordinary Corrupt Human Love (Stream)
Real Friends – Composure (★★★★★ Review)
Hopesfall – Arbiter
Save Face – Merci (Stream)
Between the Buried and Me – Automata II (★★★★.5 Review)
Between You & Me – Everything Is Temporary (★★.5 Review)
Chelsea Grin – Eternal Nightmare (★★★ Review)
Teen Agers – When We Were (Album Premiere)
Lydia – Liquor
LTNT – Yode EP
Like A Storm – Catacombs ('The Place We Call Home' feature)
Black Fast – Spectre Of Ruin
Nerdlinger – Happy Place (Stream)
TrailBlock – Think or Be EP (★★★ Review)
Chubby Thunderous Bad Kush Masters – Come & Chutney
Post Season – Post Season
Hyvmine – Fight or Flight
Century Thirteen – Century Thirteen
Former Member – Old Youth
What releases are you looking forward to hearing? Let us know in the comments.