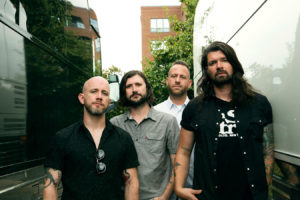 After a fairly quiet rest, it's our first weekly roundup of releases of the year.
To ease us in 2019, Taking Back Sunday are in a celebratory mood as they deliver their retrospective collection – 'Twenty'. While Illinois metallers Born of Osiris consider the use of artificial intelligence on 'The Simulation'.
Joining them in the metal release stakes are Sweden's Soilwork, who return with their eleventh album, 'Verkligheten' and Jinjer from Ukraine as they release their 'Micro' EP.
As for debut releases, Florida newcomers Afterlife aim to leave an impact with 'Breaking Point', members of The Get Up Kids, The Anniversary and more team up to form Radar State and emo/pop-punk band Downcast make their first out with their self-titled EP.

Follow us on Spotify for more playlists.
Taking Back Sunday – Twenty (★★★★.5 Review)
Born of Osiris – The Simulation (★★★.5 Review)
Jinjer – Micro EP (★★★.5 Review)
Soilwork – Verkligheten
Afterlife – Breaking Point
Radar State – Strays (★★★ Review/Stream)
Downcast – Dowcast EP (★★★ Review)
State Of Ember – Broken Horizons
Peste – Peste
A Swarm of the Sun – The Woods