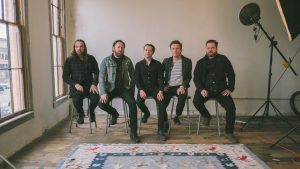 Although many will be spending the weekend at the Download Festival, that doesn't mean there is no new music being released.
For starters, the influential emo band The Get Up Kids return with their brilliant 'Kicker' EP. For those wanting something a bit heavier, Tremonti delivers 'A Dying Machine'. While Manuel Gagneux aka Zeal & Ardor marks his appearance at Download with the release of 'Stranger Fruit.'
There's also 'Artificial Selection,' the eighth album from Dance Gavin Dance, and In Hearts Wake give 'Ark' the deluxe edition treatment.

Follow us on Spotify for more playlists.
The Get Up Kids – Kicker EP (★★★★★ Review)
Dance Gavin Dance – Artificial Selection
Zeal & Ardor – Stranger Fruit
Tremonti – A Dying Machine (★★★.5 Review)
In Hearts Wake – Ark Deluxe
Sundressed & Nominee – Split EP
Forever Unclean – Woof (Stream)
Lovebites – Battle Against Damnation EP
Pllush – Stranger to the Pain
What releases are you looking forward to hearing? Let us know in the comments?