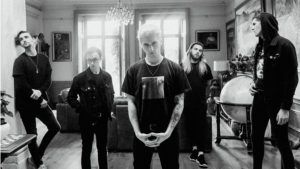 This week's round of releases is somewhat on the heavy side of things with releases from hard rockers Buckcherry, Finnish extreme metallers Children of Bodom, revitalised British metal band The Raven Age and Dutch metalcore collection The Royal.
Nevertheless, this week's standout release comes from Welsh hopefuls Holding Absence and their debut album. If you've visited the site in recent days, then you'll know we quite like this.
There is also new music from Zebrahead, Youth Fountain, Holy Pinto, Black Coast, Misery Index, and King Destroy.

Follow us on Spotify for more playlists.
Holding Absence – Holding Absence (★★★★★ Review/"How We Wrote" feature)
Zebrahead – Brain Invaders ("Guest Blog" feature)
Buckcherry – Warpaint
Children of Bodom – Hexed
The Raven Age – Conspiracy (★★★ Review)
The Royal – Deathwatch
Youth Fountain – Letters To Our Former Selves ("Influences" feature)
Black Coast – Ill Minds Vol II (★★★ Review/Stream)
Holy Pinto – Adult (★★★.5 Review/Stream)
Misery Index – Rituals of Power (Stream)
King Destroy – Fantasma Nera
Dead Sword – Enders
FEN – Stone & Sea