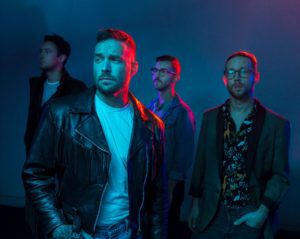 After a rush of new releases in recent weeks, today is fairly tame in comparison. And even though some of you will be seeking out Valentine's Day gifts for your loved ones this weekend, you might want to treat yourself to some of today's releases.
For starters, Emarosa's venture into 80's-inspired synth-pop has favourable results. While the 'Phantom Sessions' EP sees August Burns Red treat fans to a mix of reimagined tracks, instrumental takes and a cover of the theme song from 'The Legend of Zelda'.
Elsewhere, York thrash metalcore collective InVisions deliver their second album in the form of 'Between You and Me'. Ferocious L.A. noise rockers HEALTH return with 'Vol. 4: Slaves Of Fear', Portuguese hardcore up-and-comers PUSH! take a 'Dark Dive' and Spanish melodic punks Blowfuse give us the unmissable 'Daily Ritual'. There is also the debut album from Liverpool's Queen Zee.

Follow us on Spotify for more playlists.
Emarosa – Peach Club (★★★.5 Review)
InVisions – Between You and Me
August Burns Red – Phantom Sessions EP
Health – Vol. 4: Slaves Of Fear
Queen Zee – Queen Zee
Bob Mould – Sunshine Rock
PUSH! – Dark Dive
Blowfuse – Daily Ritual (★★★★ Review)