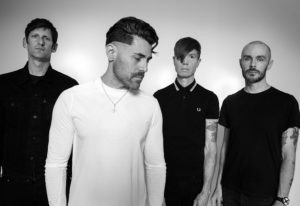 With end of year lists popping all over the place (don't worry, ours is coming soon), there aren't many major releases this month so it's a great opportunity for up-and-coming names to take the spotlight.
While AFI have treated fans to a new EP in the form of 'The Missing Man', exciting emerging bands such as Crevassian, Atlas : Empire, Irk, Misgivings and For I Am King are certainly worth checking out.
There are also releases from Metal Church, Come Clean, From States Away, and Overbite.
Follow us on Spotify for more playlists.
AFI – The Missing Man EP (★★★★.5 Review)
Atlas : Empire – The Stratosphere Beneath Our Feet (★★★ Review/"Track Guide" feature)
Crevassian – Crevassian (EP Premiere)
For I Am King – I (★★★.5 Review)
Misgivings – Hermitage (Album Premiere)
Irk – Recipes from The Bible (★★★★ Review/Video Premiere)
Metal Church – Damned If You Do
Authority Zero – Persona Non Grata
Come Clean – From Down The Street
From States Away – I Swear This Light Won't Fade EP (★★★ Review/Stream)
Overbite – I'm Sick Of Telling Myself I'll Be Okay
Alright – On the Outs (stream)
Jason Becker – Triumphant Hearts
Tomorrow Is Lost – The Shadowman EP