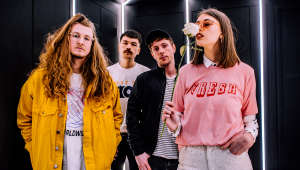 Although football might be coming home in the near future (sorry to all our non-England supporting readers,) that doesn't mean there's a flow of new releases to hear instead of singing along to 'Three Lions' (sorry!)
The first Friday in July sees a whole host of up-and-coming names leave a strong impression. Sure you've got DevilDriver sitting round the campfire with a set of outlaw country songs, but there are new releases from names such as Orchards, Asylums, Pagan, Maypine, GLOO, and MSRY to be excited about.
There is also new music from We The Kings, The Human Project, Lucifer, naisian, ROPE, Liquid State and Secret Cutter.

Spotify | Apple Music | YouTube | Deezer
DevilDriver – Outlaws 'Til the End
Asylums – Alien Human Emotions ('Music By Numbers' feature/Stream)
Orchards – Losers/Lovers EP (★★★★.5 Review)
We The Kings – Six
Pagan – Black Wash
Maypine – Bend/Break EP (★★★ Review/Stream)
GLOO – A Pathetic Youth (Stream)
The Human Project – Clarion Call (★★★★ Review)
MSRY – Safety First ('Recommends' interview/Stream)
Lucifer – Lucifer II
Cold Snap – All Our Sins
naisian – Rejoinder EP (Stream)
Raw In Sect – Kitro ('The Place We Call Home' feature)
ROPE – Come Closer (Stream)
Secret Cutter – Quantum Eraser (Stream)
Liquid State – Save Yourself EP
What releases are you looking forward to hearing? Let us know in the comments.