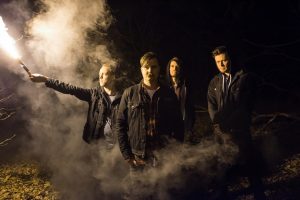 When it comes to new releases, today is considerably one of the biggest we've seen in quite some time. It's that momentous, the AH team have christened it #AlbumArmageddon as there is a wealth of major albums out today.
Previous AH Record of the Year winners, Black Peaks return with their second album – 'All That Divides'. Coheed and Cambria take us back to the Armory Wars on 'The Unheavenly Creatures'. You Me At Six release their imaginary titled sixth album – 'VI'. For those wanting some blackened death metal, then the return of Behemoth is sure to be welcomed. Whereas the highly anticipated return of twenty one pilots finally happens with 'Trench'.
There are also new releases from mewithoutYou, Cursive, Monuments, Sylar, The Xcerts, Ice Nine Kills, God Complex, TTNG, High On Fire, Redwood, Estrons, Blank Atlas, and SHADED. As we said, it's a pretty packed day for new releases.

Follow us on Spotify for more playlists.
Black Peaks – All That Divides (★★★★★ Review)
Coheed and Cambria – The Unheavenly Creatures (★★★.5 Review)
Behemoth – I Loved You At Your Darkest
You Me At Six – VI (★★ Review)
twenty one pilots – Trench
The Xcerts – Late One Night EP (★★★.5 Review)
mewithoutYou – [untitled] (Stream)
Monuments – Phronesis
Ice Nine Kills – The Silver Scream (★★★.5 Review)
Cursive – Vitriola
City & Colour – Guide Me Back Home
Sylar – Seasons
High On Fire – Electric Messiah (★★★.5 Review)
God Complex – Created Sick EP (Stream)
TTNG – Animals Acoustic (★★ Review)
Hellogoodbye – S'Only Natural (★★.5 Review)
Redwood – Lay Your Love Down EP (★★★.5 Review)
Youth Killed It – What's So Great, Britain? (★★★.5 Review/Stream)
Estrons – You Say I'm Too Much, I Say You're Not Enough (★★★.5 Review)
Blank Atlas – Canvas EP ("Track Guide" feature/"Recommends" interview)
SHADED – A Familiar Love EP ("Recommends" interview)
Those Damn Crows – Murder and The Motive
flirting. – This Would Be Funny If It Were Happening To Anyone But Me EP
Chasing Dragons – Faction
Reawaken – monochrome EP
Poets of the Fall – Ultraviolet