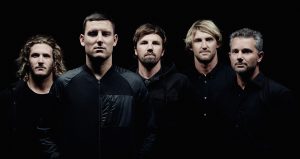 Here in the UK, it's another Bank Holiday weekend and while the weather might be pretty unpredictable, we can tell you there is an abundance of notable new music releases out today.
Aussie metallers Parkway Drive lead the charge with their outstanding new album, 'Reverence'. If you want even more rock in your life this week, then Shinedown and The Word Alive also return with new albums. Someone else returning today is acclaimed UK indie-folk singer-songwriter, Frank Turner.
Elsewhere, Scottish pop-punks WOES give us 'Self Help'. Birmingham emo/pop-punk group, Layover, end their hiatus with 'Your Laughter Never Leaves'. While cinematic metallers The Ever Living release 'Herephemine'.
Finally, for those celebrating 'Star Wars Day', Galactic Empire coincidentally release 'Episode II'.

Follow us on Spotify for more playlists.
Parkway Drive – Reverence (★★★★★ Review)
Frank Turner – Be More Kind (★★.5 Review)
Shinedown – Attention Attention
The Word Alive – Violent Noise (★★.5 Review)
WOES – Self Help EP ("Slam Dunk Bites" interview)
Galactic Empire – Episode II
Layover – Your Laughter Never Leaves EP
I Feel Fine – Long Distance Celebration EP
The Ever Living – Herephemine (Stream)
TOWERS – II EP
Between Kings – the Escape
Fick As Fieses – The Drift End EP
Between Oceans – Oxymoron
Hercules Morse – Vita Boundary
What releases are you looking forward to hearing? Let us know in the comments.