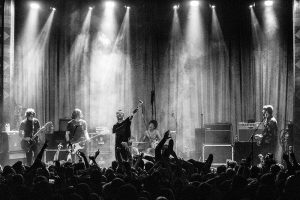 As the cold nights arrive and Christmas adverts start to appear, you'd think the stream of releases would be slowing down. As always, that isn't the case as the first week of November has a host of noteworthy releases.
Napoleon, Drug Church, Silent Planet, Sick Of It All, Landmvrks, John Nolan, and Witherfall are amongst those with new albums out today. While Touché Amoré, Opeth and Jamie Lenman treat fans to live records.
And if you're a Metallica fan, prepare to be spoiled as they release the 30th Anniversary Edition of '…And Justice For All'.
As for emerging talent, there is new music from Los Angeles indie band Gardenside, Swedish extreme speed metallers Bitch Hawk, and Italian pop-punks Why Everyone Left.

Follow us on Spotify for more playlists.
Touché Amoré – 10 Years / 1000 Shows – Live at the Regent Theatre (★★★★ Review)
Metallica – …And Justice For All (30th Anniversary Edition)
Napoleon – Epiphany
Jamie Lenman – Live At St Pancras
Drug Church – Cheer
Opeth – Garden of the Titans: Live at Red Rocks Amphitheater
Sick Of It All – Wake The Sleeping Dragon! (★★★.5 Review)
Silent Planet – When The End Began
Landmvrks – Fantasy (★★★.5 Review)
Toska – Fire By The Silos
Witherfall – A Prelude To Sorrow
John Nolan – Abendigo (★★★★ Review)
All Get Out – No Bouquet (US release)
Dave Hause – September Haze EP
It Looks Sad. – Sky Lake
Brent Walsh – Are You Even There At All? EP
Gardenside – Anything & Everything EP
Bitch Hawk – JOY
Why Everyone Left – This Is Not A Test EP
The Algorithm – Compiler Optimization Techniques
Kingsmen / Exitwounds – Sharptone Records Split Series #1
Chicharrero – Dapper Elephants Moan Over Supper
Arkdown – The Calling EP
Siblings Of Us – Gargantua
Jack The Envious – Bleeding Honesty EP