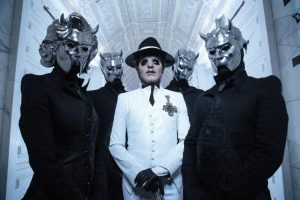 With many shifting their focus towards next weekend's Download Festival, June kicks off on a somewhat low note. Nevertheless, Ghost have returned with their much-anticipated fourth album, 'Prequelle'.
Elsewhere influential Boston hardcore band Slapshot return with 'Make America Hate Again'. While emerging metalcore band, GroundCulture, show their intent with their debut EP. SoCal trio Modern Maps deliver their Rise Records debut – 'hope you're happy.' Tancred (aka Jess Abbott) provides a journey of personal exploration with 'Nightstand', and Chelmsford rockers Tigress ask 'Who Cares' with the release of their third EP.
There are also releases from New Jersey rock band Gatherers ('We Are Alive Beyond Repair'), Odd Place, HighView, Dividium, Tiny Stills and more.

Spotify | Apple Music | YouTube | Deezer
Follow us on Spotify for more playlists.
Ghost – Prequelle (★★★★.5 Review)
Slapshot – Make America Hate Again (Stream)
GroundCulture – GroundCulture EP ('Recommends' feature)
Modern Maps – Hope You're Happy
Tancred – Nightstand
Kevin Devine / Worriers – Unplanned Service Change (stream)
Tigress – Who Cares
Gatherers – We Are Alive Beyond Repair (Stream)
Dividium – T.H.R.E.E. EP
HighView – Aftermind
Odd Place – Things To Place On The Moon
Tiny Stills – Laughing Into the Void (stream)
The Zealots – Only Rocks Live Forever
The Lightness Of Being – Diversions EP
Hostile Array – Hostile Array
What releases are you looking forward to hearing? Let us know in the comments.