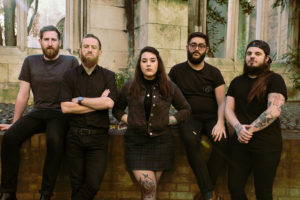 At last! It's over! Even though January delivered some stand out musical highlights, for some, it seemed like the month would never end. Nevertheless, it's the first week of a new month and it begins with a host of notable releases.
Leading the way is the debut full-length from dynamic UK metallic hardcore group, Ithaca, as they release 'The Language of Injury'. While another of our bands to watch in 2019, Spielbergs tell us 'This Is Not The End'.
There is also music from several other emergings bands such as Astronoid, Mastiff, Shadows Like Strangers, Small Talks and RCKLSS.
As for more familiar names, there are new releases from Within Temptation, Set It Off and Guided By Voices.

Follow us on Spotify for more playlists.
Find the playlist on Apple Music | YouTube | Deezer
Within Temptation – Resist
Ithaca – The Language of Injury (★★★.5 Review/Stream)
Set It Off – Midnight (★★ Review)
Astronoid – Astronoid (★★★.5 Review)
Spielbergs – This Is Not The End
Guided By Voices – Zeppelin Over China (Stream)
Kevin Devine / Cavetown – Devinyl Splits No. 11
Mastiff – Plague (★★★★ Review/Stream)
Shadows Like Strangers – CALI (★★★ Review)
Small Talks – A Conversation Between Us (★★★.5 Review/Stream)
RCKLSS – So Cynical EP (★★★ Review)
Quantum Pig – Songs of Industry and Sunshine
A Crash Republic – Homewreckers: Sweet Apathy
Warish – Warish (Stream)
Reconciler – Set Us Free
Soen – Lotus