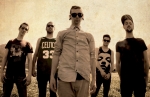 Geneva, Switzerland's Promethee have announced they will release their debut album 'Nothing Happens. Nobody Comes, Nobody Goes' on Monday 21st January 2013, through Bad Moon Records.
1. The Great Deception
2. Banner Of Lies 3. Buried
4. Of Loss And Disgust
5. Life/Less
6. Genesis
7. The New Face Of Mankind
8. Thus Spoke
9. Sickness Unto Death
10. Oblivion.