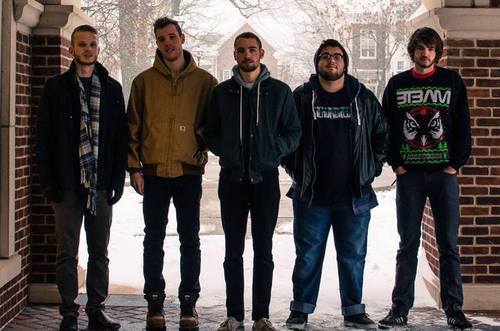 This week's edition of Pop-Punk A&R sees Already Heard talking to New Jersey pop-punkers Save Face. Delivering an urgent and unapologetically raw sound, Save Face have just released their new EP, 'I Won't Let This Take My Life'. The new record sees the band deliver a substantially heavier product; combining the energetic pop-punk riffs of 2013's 'Lost At Heart' with a distinctly more hardcore vocal delivery. Whilst by no means abandoning all melody, it is a clear change and welcome variance in direction for the New Jersey quintet. We sat down with lead singer Tyler Povanda to discuss the band's origins.
AH: Did the environment you grew up in help or hinder/encourage or discourage you pursuing a career in music?
Save Face: I would say it helped.  We were exposed to a wide variety of music that inspired us to pick up instruments.  By surrounding ourselves with friends into music as much as we were it certainly set up our futures of playing in bands.
AH: What is your proudest achievement as a musician?
Save Face: One minute into our first song during our first show ever, a kid broke his nose from moshing. The fact that kids were getting that into our music at such an early phase was something we always thought was very awesome. (The kid made a quick recovery).
AH: Which individuals outside of your band mates have helped you – musically – achieve what you have so far?
Save Face: I'm sure I'm going to forget some people on this list, but we have an unbelievable amount of people to thank. We've met some of the most incredible people this year, and they've been nothing but helpful. Our good friends Justin, Andy, Jake, Angie, and Mallory, CUBRat, Emily Tantuccio Photography, and the awesome guys at Cannon Found Soundation. As far as bands go, we have to thank Batten Down The Hatches, Coming Clean (RIP), On Your Marks, Cross Town Train, North Runner, and Brightener.
Cannon Found Soundation was the destination for the mixing and mastering of Save Face's recent split with the aforementioned Brightener. The two men behind the controls, Jesse Cannon & Mike Oettinger have worked on many of the stand-out pop-punk records of the past 6/7 years. Amongst their impressive discography sit the likes of Transit – 'Keep This To Yourself', Saves The Day – 'Sound The Alarm' & Man Overboard's break out 2010 full length 'Real Talk'.
I Won't Let This Take My Life by Save Face
AH: How do you see the state of the pop-punk genre in 2014? 
Save Face: Clearly there has been a large re-emergence of the genre in recent years. But I think what's more important is the development of local scenes along the East Coast (and elsewhere). At least in our area, there has been a real shift from where the local scene has been, to where it is now. More and more venues are getting shut down, but fortunately pay-to-play types of shows aren't the only means of booking a show with your band. We're bringing shows to basements again and to halls and VFWs with good turnouts and positive behaviour. "Pop-punk" is just a loosely-defined genre. We're more excited to see the new emerging artists that will come through our local scene and see how they make an impact on a larger scale.
In an age when an online presence and levels of social media activity are often preferred to hard graft and local touring, it is impossible to underestimate the importance of a strong local scene, the fraternity affect that has the possibility of leveraging the careers – of not just one but multiple bands – from relative obscurity to national touring. There are few closer knit scenes than the North East pop-punk family, churning out thoroughly exciting new talent every year. Furthermore, those bands who might overlook the significance of prioritizing plying their trade locally, should always remember that having a faction of contemporaries fighting your corner is not only the quickest way to align with management, bookers and promoters, but also the most effective way to embrace and maximize the viral nature of new music across digital media.
AH: What is your favourite pop-punk record of all time?
Tyler: Blink 182 – Dude Ranch
Hranj: Sum 41- All Killer No Filler
Chris: All Time Low – So Wrong It's Right
Shane: The Wonder Years – Suburbia I've Given You All, And Now I'm Nothing
Cranden: The Story So Far – Under Soil And Dirt.
AH: For those of our readers who are new to the band, what sets you apart from your contemporaries within the genre? 
Save Face: We're pretty tall.
With the arrival of 'I Won't Let This Take My Life', Save Faceb have offered up an honest and impactful 5-track which looks set to continue the band's forward momentum along the East Coast throughout 2014.
'I Won't Let This Take My Life' by Save Face is out now.
Save Face links: Facebook|Twitter|Bandcamp
Words by James Lloyd (@CT4James)