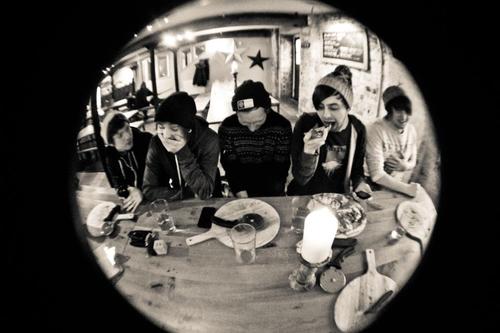 This week Already Heard sat down with Jamie Reeve, front man for Trowbridge pop-punkers Nathan Detroit. From their birth in a sleepy town outside of Bath to the studios of nationally regarded Ranch Production House, the singer casts his eye over the past, present and future for the South West quintet.
AH: Did the environment you grew up in help or hinder/encourage or discourage you pursuing a career in music?
Jamie: I think it helped massively in different ways. It was once pretty vibrant with bands such as Architects and You Me At Six to name a few, in their early days stopping in Trowbridge regularly, which was a massive inspiration in terms of wanting to write and enjoy music.
Then the scene here really died along with various music venues, which was negative at the time but has turned out to be a positive moving forward for us. It made us want to give people an opportunity to enjoy live music, which inspired us all start playing music in the first place.
AH: What is your proudest achievement as a musician?
Jamie: I think it's the fact I get to do everything I ever wanted to do in music with Nathan Detroit. Over the past few years we have played close to a few hundred shows, toured, recorded with an awesome producer, and are really starting to find our feet in the pop-punk scene in this country and its only really just begun for us. It's also very humbling feeling knowing there are strangers out there wanting to support us off of their own back and that fact is something that makes me feel proud of what we are doing.
Nathan Detroit by Nathan Detroit
Nathan Detroit continue to make strides within the UK scene, building to this point a modest but wholeheartedly genuine and loyal fan base. It is a fan base that continues to grow at a similarly speedy rate to that of their peer recognition, with bands across the country continuing to endorse the South West outfit.
One of the most notable things about the South West rockers' self-titled EP from last year, is the ability to create three honest, direct and energetic tracks without ever sounding like an angsty cliché. The EP is instead that of a band that is happy and content with where they have come in a relatively short space of time, but one who is well aware they are capable of going much further.
With their endearing blend of 90's infused emo and straight up pop-punk of present day you could be forgiven for entertaining the thought that Nathan Detroit are the latest band successfully moulding their sound to the current nouveau-emo revival with the addition of a few big hooks and a weighty breakdown or two. Pleasingly, you'd be very much mistaken; that is to say whilst they may well have drawn inspiration from the likes of original emo heavyweights Saves The Day and contemporary pop-punkers State Champs, at no point do they sound like a makeshift amalgam of the two, instead crafting a very deliberate and very impressive sound all of their own.
AH: Which individuals outside of your band mates have helped you – musically – achieve what you have so far?
Jamie: I could name loads of people for this but will have to give a specific mention to Neil Kennedy and Jim Harding at The Ranch Production House who have recorded and produced everything we have released to date and also the new EP due out on August 4th through St November Records. In terms of song writing they have helped us develop our sound into something we are very proud of. We also have very good and honest friends who give us a huge amount of support for what we are trying to achieve which is amazing.
AH: How do you see the state of the pop-punk genre in 2014?
Jamie: The state of pop punk is great! In this country and all over the world I am discovering new pop-punk bands all the time. We have played with some really good and talented bands over the past few years as well and can't help thinking we are moving into a great era of pop-punk!
AH: What is your favourite pop-punk record of all time?
Jamie: Out of the couple I had in mind I will have to say my favourite pop-punk record is 'Sticks and Stones' by New Found Glory. It was a massively influential record for me growing up and I relive so much when I listen to it. Some high points, some low but a great album by one of my favourite bands.
Just a couple of years withdrawn from one of the top pop-punk records of its time, New Found Glory emerged victoriously from their breakout Self-Titled release at the turn of the millennium to deliver another masterpiece in the form of what was for many the soundtrack of the Summer in 2002, 'Sticks and Stones'. Beyond just the single that turned the band into a household name in the mainstream ('Sticks And Stones' peaked at no.10 in the UK album charts) in 'My Friends Over You', the record celebrated every emotion, heartbreak, triumph or loss with the same emphatic optimism that embodied the genre at the time. Tracks such as 'Understatement' and 'Sonny' still setting the standard and providing inspiration for the next generation almost 12 years later.
AH: For those of our readers who are new to the band, what sets you apart from your contemporaries within the genre?
Jamie:
I think what sets us apart would be our live set. We put a massive amount of effort into perfecting what we deliver live and we have a particular dedication to being as tight as we possibly can live whilst still giving an energetic live show. Performing live is by far my favourite part of music and gives a crowd or person a view of what we are all about and equally try to inspire other to play music too.
Nathan Detroit will have the opportunity to create a new source of inspiration with this Summer's new EP which is set for release on August 4th via St November Records.
Nathan Detroit links: Facebook|Twitter|Bandcamp
Words by James Lloyd (@CT4James)