Welcome to the newest original feature at Already Heard, "Pop-Punk Approved & Recommended". The goal of this fortnightly feature is to expose some of the most promising bands in pop-punk from around the world, and stray away from the monotonous and lazy 'pizza and friends' stereotypes. Instead we'll be focusing on the music, digging a little deeper into the evolution of the genre, as well as the people behind the music – both the artists themselves and the unheralded figures behind the scenes.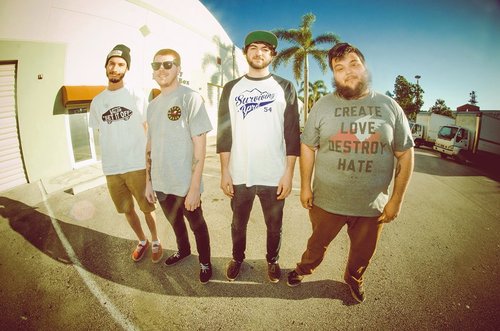 New York's Firestarter are one of the newest bands to make waves in the buoyant North East pop-punk scene. Since forming at the end of 2012, the quartet wasted little time in putting out debut EP, 'New Beginnings' less than 3 months later. The impressive 5-track was followed up by a split with Old Again in October. Firestarter's latest single 'Lost & Found' dropped at the beginning of this month. We spoke to front man Matthew LaPerche to learn more about the genre newcomers.
AH: Did the environment you grew up in help or hinder/encourage or discourage you pursuing a career in music?
Matthew: Growing up, my parents were always supportive of what I did or wanted to involve myself in. They were the ones who took me to my first punk rock show when I was 12 years old to see Blink-182, Green Day, and Saves The Day in New York City and I was hooked ever since. My parents bought me my first guitar, got me lessons, and when I first started to play in bands, they always went to every show (They still do whenever we play close enough to them), and they were there for every big step I took in each band I have been in. Even though touring and being broke almost year round wasn't what they had in mind for me when I was born, they still support me 110% through it all and I will forever be grateful of that.
AH: What is your proudest achievement as a musician?
Matthew:
Honestly, there are two achievements I can think of instantly when seeing this question. One of them is being able to say I have seen both coasts and almost everything in-between in the continental United States via touring and playing shows. The other is playing the Vans Warped Tour, even if it was only one date of the tour. I had the privilege of doing both this past summer with my former band before Firestarter and regardless of how things ended up with that band, I had the time of my life and the experiences I had doing both was absolutely amazing and I will never forget that. Just can't wait to do it all over again with Firestarter!
Firestarter x Old Again – Split by Firestarter & Old Again
AH: Which individuals outside of your band mates have helped you – musically – achieve what you have so far?
Matthew:
There are definitely a good number of people that have helped me the past few years of me being involved in the pop-punk scene but the one that sticks out the most is Dustin Wallace of With The Punches.
Being an only child, I never had a brother-figure growing up but after meeting Dustin from With The Punches for the first time three years ago, that changed. Since then, he was always there to give me advice when I needed it, busted my balls like an older brother would, and honestly without him, Firestarter probably wouldn't exist. After my old band broke up, he was one of the first people to reach out to me, make sure I was okay, and told me that no matter what happens, he knows what I do next will be leaps and bounds better than what I had before and he had faith in me that it would be. Firestarter was lucky enough to play the penultimate With The Punches show ever a week ago and was lucky enough to see them off at their final show this past weekend as attendants. Without Dustin and without that band, I don't think I would be in a pop-punk band today.
An influential band in the growth of Firestarter, With The Punches will be a great loss to the pop-punk scene in the North East and across the US. A band that rose to prominence along with State Champs and Major League, With The Punches played a part in the grassroots revival of the genre at the beginning of this decade, proving once again that a band can go from local heroes to international touring and major festival players.
AH: How do you see the state of the pop-punk genre in 2014?
Matthew: In my opinion, 2013 was a massive year for pop-punk. With amazing records from bands such as The Wonder Years, The Story So Far, We Still Dream, Man Overboard, Knuckle Puck, Neck Deep, State Champs, and so many others already released, it was an absolutely amazing year for the genre. This year, there is much of the same to come and there is no way to deny that "Pop-Punk's Not Dead" and it's ready to break back out into the mainstream with full force similar to what we saw in the early 2000's with Blink-182, Green Day, New Found Glory, The Starting Line, Sum 41, Yellowcard, etc.
AH: What is your favourite pop-punk record of all time?
Matthew: Ooof, this is one doozy of a loaded question. I can't trim it down to my absolute favourite, but here is my top 5 in no particular order:
Blink-182 – Take Off Your Pants and Jacket
Fall Out Boy – Take This To Your Grave
New Found Glory – Sticks And Stones
Set Your Goals – Mutiny
The Starting Line – Say It Like You Mean It
A pretty staple response for any fan of the genre growing up in the early 21st century, Firestarter's early work unquestionably draws upon elements of New Found Glory, with some of the guitar work almost Gilbert-esque (the intro to 'Worth My Time' would ease right into 'Sticks And Stones') and the interplay between the vocals and percussion also familiar. A more considered sound than the Florida pioneers, the most notable similarity is the sheer energy in the delivery of tracks such as 'Myrtle Avenue'. 'New Beginnings' more accurately reflects their more recent peers such as Pure Noise Records' I Call Five and Handguns as well as the aforementioned Knuckle Puck and Major League, but a rich upbringing of pop-punk across multiple generations coupled with an undeniably well rounded musicianship for a band formed little over a year ago is evident in their promising rookie release.
AH: For those of our readers who are new to the band, what sets you apart from your contemporaries within the genre?
Matthew: We want to have fun and want our listeners to do the same. We write the music we love, the music we grew up on, the music we want to hear. If people are into it, that is absolutely amazing and means so much to us, but if that's not the case, it won't stop us from continuing to write songs like we have been, just to appeal to more people. If one of our songs can help someone through the day like they have for me while writing them, it is an amazing feeling to know I am not alone in the world and that I can actually make a difference regardless of how small it may be.
Always a refreshing attitude to bring to the writing process, not penning tunes merely to appease a target audience, trusting their own instincts rather than relying on the current success of many of their peers to achieve the success they are working towards. An unquestionable exuberance throughout 'New Beginnings' – nowhere more-so than '49 Stow' – certainly supports the idea that the band is thoroughly content with their sound, relishing the opportunity to project their upbeat pop-punk onto any willing audience.
Firestarter links: Facebook|Twitter|Bandcamp
If you're band would like to be featured in a future edition of "Pop-Punk A&R", please send an e-mail to [email protected] with the subject title of "Pop-Punk A&R".
Words by James Lloyd (@CT4James)