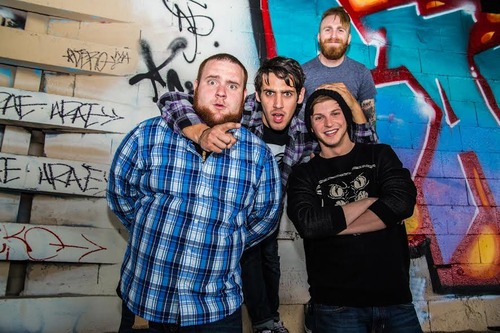 This week Already Heard sat down with Mike Hayden, frontman of Philadephia pop-punkers Count To Four. The quartet integrates elements of early 2000's pop-punk with a contemporary and splendidly hook-heavy streak. The band is still riding the crest of the wave following the success of last year's 'Between Two Cities' which peaked at no.3 in the Bandcamp Album Charts. This becomes all the more impressive when you take into account that the independent release was their first since 2010's debut EP 'Where You Come From'. An energy and chemistry far surpassing many of their contemporaries, Count To Four found themselves singled out by Alex Gaskarth (All Time Low) last year, who hand selected the band to support All Time Low on dates of their North American College Tour.
AH: Did the environment you grew up in help or hinder/encourage or discourage you pursuing a career in music?
Hayden: Growing up in South Jersey was actually extremely beneficial to our musical development. First of all, we grew up right next to Philadelphia; a city with its own incredible musical history with an extremely DIY attitude. There was always a great music scene in South Jersey as well. You came to all of your friends' shows and all of your friends came to all of your shows. Everybody loved to support one another. Each one of us at one point in time has played our friend's backyard, a club, a church, a restaurant, or the Barrington Harvest Fest where we would play on the back of a flatbed truck. The whole attitude of the area was just to play music no matter what, no matter where. This definitely had a huge impact on both our decision and our approach to pursuing a career in music.
The Jersey scene continues to reel out a production line of talent, with many of the genres leading lights emanating from one side of the Deleware Bridge or the other. Sitting atop the punk-pedestal at present are the likes of Major League, Modern Baseball, The Front Bottoms & Man Overboard all of whom derive from the region. Not only has this surge in local boys coming good further whet the appetite of fans throughout Philly & South Jersey but moreover, the continued production line emerging to the forefront of the genre has almost certainly furthered the desire and belief of the next generation of talent with artists such as Carousel Kings, Last in Line and Batten Down The Hatches, along with Count To Four all showing a great deal of promise at this stage.
AH: What is your proudest achievement as a musician?
Hayden: Just that fact that we have been able to tour the entire country multiple times is a pretty substantial achievement for us. However, there's a lot that we can say we are proud of. One of them being that four kids from New Jersey who were playing cover shows in their friends' backyards were able to successfully play a show in Mexico and live to tell the tale. We were also able to produce two relatively successful music videos, one being the runner up in the MTV Freshman Award, and that is something of which we are extremely proud. Honestly, we are probably most proud of the fact that we all decided to put our lives aside and seriously pursue a career in music. Though we all missed out on many different opportunities that came our way, we all collectively put our love of music above anything else. That, to us, is the thing we are proud of the most.
Count to Four are currently coming to the end of their largest tour of the year so far; a national headline affair across the US and can justifiably feel proud of their ascent to a nationally known entity within the genre in a relatively short period of time. The juggle between music and other commitments would have broken many bands in their position, in Count To Four's case it seems to have only made them strive for further success.
Between Two Cities by Count To Four
AH: Which individuals outside of your band mates have helped you – musically – achieve what you have so far?
Hayden: We have all been extremely fortunate in the support that we have gotten from our families over the years. As said before, we all made the decision to put our lives aside and try to make music a career and all of our families have been incredibly supportive of that. Our base of operations is literally out of Pete's Grandma's house, so we are forever in debt to her for using her attic as a practice space and her garage as a storage unit for countless amounts of merch and musical equipment. I took an academic leave from school for two years in order to tour, and my parents backed him 100%. It really is an amazing thing because not every band can boast that they have a family who supports their decision to live in a van and sing to random kids every night, but I guess we are one of the unique exceptions.
AH: How do you see the state of the pop-punk genre in 2014?
Hayden: What is interesting about the genre is that throughout that past two decades it has gone through many highs and lows. It first started to develop in the early 90s with California punk bands like Green Day and Blink 182 becoming household names in a mainstream audience. Around the late 90s and early 2000s, there was a complete renaissance in the genre, partially due to the fact that major labels were beginning to realize that the genre could be sold to the younger generations. Nevertheless, because of this renaissance we were given bands such as Fall Out Boy, Good Charlotte, and The Starting Line. Unfortunately, the "fad" of pop-punk began to die out in the mid to late 2000s. What we are experiencing now is a second resurgence of the genre with bands like The Wonder Years and The Story So Far bringing more of a modern sound. What's also cool is that older bands are starting to make come backs as well. Yellowcard has put out two great albums in the last four years, and reunion tours and shows are becoming a regular thing. It just goes to show how strong this genre's fan base can be and how devoted people can be to the bands they love.
AH: What is your favorite pop-punk record of all time?
Hayden: Back when Count To Four wasn't even in its conceptual stage, Pete and I became friends through a mutual love of Fall Out Boy's 'Take This To Your Grave'. Needless to say, that album was foundational to both our band's collective friendship and musical development. However, we each definitely have our own unique tastes in the genre. Jay's favourite album is 'Take Off Your Pants And Jacket', while one of my favourite albums of all time is 'MCMLXXXV' from Rufio. We tend to take a lot of influences from early 2000s pop-punk artists because that is the music we grew up on and the music that we all love.
Count To Four's delivery of 'Between Two Cities' last year has left them right on the cusp of the pop-punk mainstream and have the opportunity to strike it big when they head back to the studio in Winter.
'Between Two Cities' by Count To Four is out now.
Count To Four links Facebook|
Bandcamp|Twitter
If you're band would like to be featured in a future edition of "Pop-Punk A&R", please send an e-mail to [email protected] with the subject title of "Pop-Punk A&R".
Words by James Lloyd (@CT4James)