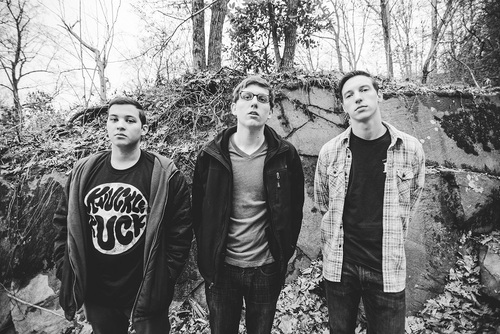 This week Already Heard sat down with Dorian Cooke, guitarist and vocalist of Richmond, Virginia's Battleghost. Battleghost released their latest EP 'Transient' on May 15th and have since received a series of thoroughly encouraging set of reviews from press internationally for the evocative six-track.
AH: Did the environment you grew up in help or hinder/encourage or discourage you pursuing a career in music?

Cooke: I would certainly say it helped. Nick (Craven, Drums) and I both grew up in houses with musicians in it – our respective fathers both played the drums – which helped push us both towards musical careers in terms of both support and inspiration.
AH: What is your proudest achievement as a musician?
Cooke: Being able to travel around doing what we love to do and meet some of the best people is what we're most proud of. Being able to make friends along this journey and in turn help them out along the way, whether it be with shows, contacts or anything else. It really is one big circle of friends that we couldn't be happier being part of.
Battleghost's EP release show on May 24th showcased this circle of friends, with Broadside, Count To Four and another handful of emerging talent from the East Coast pop-punk pool all lending their support to a record that saw Battleghost make notable strides from last Spring's 'Don't Be A Hero'.
In that one year the band has undergone somewhat of a facelift both in terms of members and musical direction. Reverting from a quintet to a trio late last year, Cooke, Craven and Gray have reverted from care-free and unapologetically upbeat pop-punk to a considerably more thoughtful sound; one moulded by the very circumstances surrounding the breakup and alteration of the line-up that it created. The end product is less Stickup Kid and more Real Friends but there's still melody to be had; 'Stateless' is an all-out celebration of the aforementioned and close-knit community, but the reckless abandon approach to not belonging soon makes way for a more anxious and withdrawn feeling, broadcast during the likes of forthcoming single 'Cogbill' and 'Contentions'.
AH: Which individuals outside of your band mates have helped you – musically – achieve what you have so far?

Cooke: Parents are always an amazing source of support. Every time we leave for tour, we are always sent off with bags of snacks and cases of water Haha! Also friends that helped us grow into a band that people will come out to see. It all started with showing our friends and getting them to enjoy it.
AH: How do you see the state of the pop-punk genre in 2014?
Cooke: Growing. It's getting stronger with all of these new bands continuing to exert their own spin on the genre. It'll never get old that way.
AH: What is your favourite pop-punk record of all time?
Cooke: There are a lot to choose from, but probably 'Enema of the State' or 'Take Off Your Pants and Jacket'. That is where it all started for me. Blink-182 paved the way for pop-punk as it is today, and there is a reason why everyone cites them as such an influence.
AH: For those of our readers who are new to the band, what sets you apart from your contemporaries within the genre?

Cooke: I think that we're set apart from other bands in the genre because we don't try to do every single thing that others are doing. We do pride ourselves on being original with how we write our music and how we push and perform it.
Battleghost have thrived under their new image, fully committing to a sound honest in its vulnerability but one that also supplies enough instrumental urgency to appease those who relish in the more hook driven side of the genre. Whilst Battleghost are not breaking into untouched territory with the release of 'Transient', they have made great strides in just one year and have delivered an EP teeming with passion and aggression in equal level, and one which will only catalyse their transition to the next level.
Battleghost's new video for 'Cogbill' is set to drop mid-June.
'Transient' by Battleghost is out now.
Battleghost links: Facebook|Twitter|Soundcloud|Bandcamp|YouTube
If you're band would like to be featured in a future edition of "Pop-Punk A&R", please send an e-mail to [email protected] with the subject title of "Pop-Punk A&R".
Words by James Lloyd (CT4James)