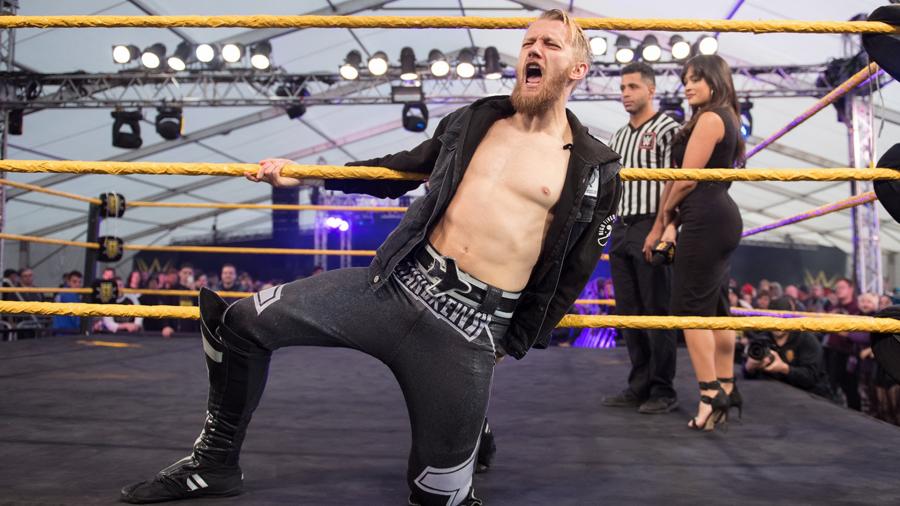 Ladies and Gentlemen, be prepared for liftoff. WrestleMania Weekend is here! You're probably wondering why a music site as great as Already Heard is covering wrestling (again!)? Well, besides our love for hooks, breakdowns and riffs, we're also fans of chops, slams and flips.
Over the coming days, all eyes of the wrestling world will be on New Orleans, and it's not just WWE (World Wrestling Entertainment) who are in town. The independent pro wrestling scene has been thriving in recent years, and away from the hustle and bustle of WWE, there are a host of promotions putting on shows in NOLA; Ring of Honor, and Evolve, along with the UK's own PROGRESS and Revolution Pro Wrestling. On top of that, there is IMPACT Wrestling Vs. Lucha Underground, the WrestleCon SuperShow, Joey Janela's 'Spring Break 2' and Matt Riddle's 'Bloodsport'. All unique shows that add to a weekend full of wrestling.
Then there's the small matter of WWE. Alongside the marathon long event that is WrestleMania on Sunday, the guys and girls in NXT will be looking to steal the weekend with their 'Takeover' show on Saturday night.
While some wrestlers spend most of their time in the square circle, there are some who have shown their musical talent, and we're not talking about Elias. We're talking about Mark Andrews. The Welshman has wrestled around the world and is currently part of WWE's Cruiserweight and United Kingdom roster. When he's not in a WWE ring, you can also find him wrestling for the likes of PROGRESS, ATTACK! Pro Wrestling, and Canada's SMASH Wrestling. And when he's not in the wrestling ring, he's performing pop-punk bangers with Junior.
Before boarding his flight to NOLA, we asked Mandrews to tell us about some tunes from a playlist full of "bangers" that he listens to while on the road, whether it's with his bandmates or wrasslin' buddies, or working out in the gym.
---
Here's a load of songs I listen to on the road. Whether I'm in the gym or travelling to a show, this playlist is full of bangers that keep me moving forward. A lot of these are songs that I've picked up on the road when playing shows. They remind me of good times being on tour with good people.
With Wrestlemania coming up, I've rinsed through this playlist a lot, and updated it with even more bangers. There's plenty more in there, but I'll let you be the judge. Enjoy, guys!
Romancer – Nausicaa
I met these guys on a Canadian tour with my band Junior. Please if you ever get a chance, for your sake, go see them live. Their bassist is nuts, and this song is dreamy AF. Total banger.
Holding Absence – Saint Cecelia
Holding Absence are some of my good pals from back home, who similarly to me, also plan to take on the world. This song bangs hard. Everything they do does. Melodic as ever. Go enjoy this.
Havelocke – The Nightmare
A great song written by great people. Maybe the best people. They riff hard and fast. Absolutely banging song.
Tiny Moving Parts – Caution
Have you heard this new album ('Swell') yet?! The whole thing is rad, but especially this song. Go indulge in the Midwest emo, tech feelz that is Tiny Moving Parts.
You Know The Drill – Heads Up (acoustic)
What a lovely acoustic version of this song. The original bangs too, plus the lads used to let me sing guest vocals on tour with this one. Check out those sweet harmonies.
Keep Flying – Safety Harbour
So fun. You can't feel crap listening to this one. The hardest banging sax player of all time. Get on it, gang.
Pentimento – Stuck Forever
Maybe the most underrated band I know of? These guys should have been huge. Lovely, catchy, emo, banger of a song.
Creeper – Room 309
As if this needs any explanation. We all know how good Creeper are. The end of this one hits you right in the feels too.
Heartsounds – Every Second Counts
Is there a band that riffs harder than Heartsounds? No, is probably the answer. Put this one on your workout playlist, gang.
As The Sun Sleeps – Florida
A feel good summer song from some of the best dudes out of the UK. Beer pong anthem right here.
Rival Town – Open Windows
Melodic, emo, riff-heavy banger. This song reminds me of being away from home, but making best pals out of people you've just met. Big love for the Rival Town lads.
Metric – Gold Guns Girls
Maybe the most motivating song on the playlist?! That riff at the start is huge. Bangs all day long.

Mark Andrews will be performing at WWE WrestleMania Axxess and for PROGRESS Wrestling this weekend in New Orleans.
Mark Andrews links: Twitter|BigCartel
Junior will be performing at The Dome in London on May 6th. Tickets available here.
Junior links: Facebook|Twitter|Bandcamp
WWE NXT will be returning to the Download Festival from 8 – 10 June 2018.