Although some of us are looking further ahead towards other festivals, for others it kicks off this weekend with the Teddy Rocks Festival.
Since launching in 2011 as just as a small gig at The Greyhound pub in Blandford, Dorset, the festival has grown becoming a three-day event at Charisworth Farm. While it takes in everything from rock, punk, hardcore, pop, folk, dubstep and more, the main reason for the festival shouldn't be ignored.
Teddy20 is a children's cancer charity founded by Tom Newton. He and his family lost his 10-year-old brother Ted to a very rare bone cancer in 2010. Thanks to the growth of Teddy Rocks, the charity has raised over £167,000 in aid of families with children undergoing treatment for cancer.
As Teddy Rocks returns to Charisworth Farm for the second year running, the 2018 edition is considered the biggest TRF yet!
If you're heading to Dorset (or not), we've put together a selection of bands from this weekend's lineup as a preview of what to expect at Teddy Rocks 2018.
With a packed lineup led by headliners Feeder and Ash, TRF plays host to a list of stellar names; Mallory Knox, InMe, Devil Sold His Soul, Black Peaks, Press To MECO, Palm Reader, Loathe, Milestones, Funeral Shakes, Nervus and more.

Follow us on Spotify for more playlists.
---
Teddy Rocks Festival takes place at Charisworth Farm, Blandford, Dorset from Friday, 4th May to Sunday, 6th May.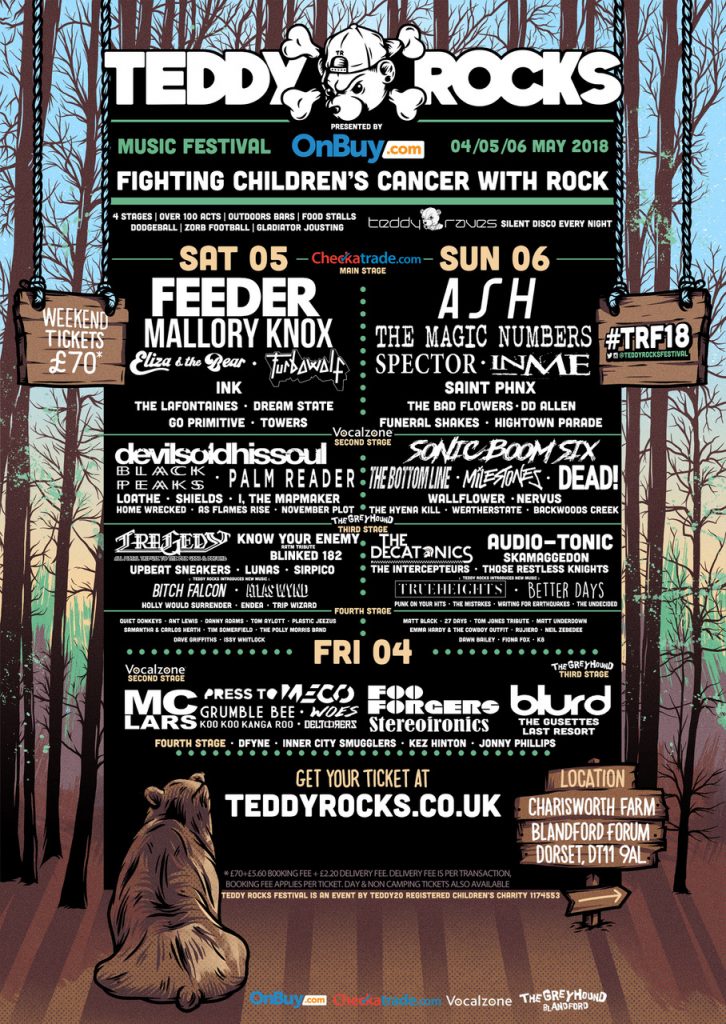 Teddy Rocks Festival links: Website | Facebook | Twitter | Instagram
Further information on Teddy20 can be found here.