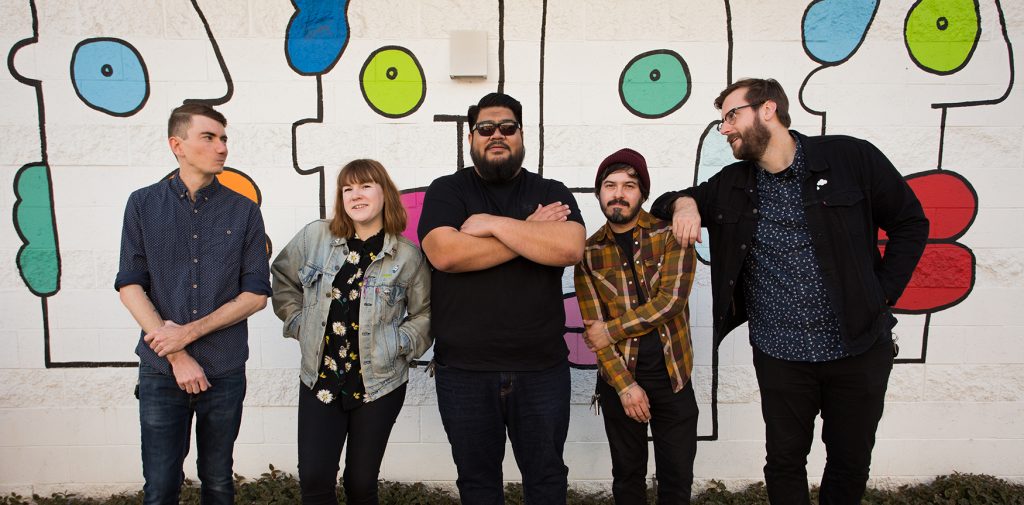 Earlier this year, 'Schmaltz', the second album from Los Angeles punk band Spanish Love Songs landed in our inbox and has repeated plays, almost weekly, ever since. While the quintet made a short visit to mainland Europe back in the spring, they, unfortunately, couldn't fit in any UK shows. So you can imagine our elation when a UK tour for this winter was recently announced.
Set to be joined by Ducking Punches and We Bless This Mess for the UK/EU venture, the tour is sure to cap off a stand out year for Spanish Love Songs. Not only has 'Schmaltz' been embraced and praised, the five-piece have spent a majority of their time on the road, playing their brand of self-loathing, anthemic punk to anyone who will listen.
Having put in plenty of road miles throughout America and Europe already this year, Spanish Love Songs have killed plenty of time listening to "van jams". As we count down the weeks until they arrive in the UK, vocalist and guitarist Dylan Slocum has picked out the band's favourite tour tracks.
Counting Crows – Angels of the Silences
I've been on a huge Counting Crows kick lately. I don't think they have a bad album. And our band doesn't agree on a lot of bands to listen to in the van, but they're one of them. This is basically a pop-punk song and it's a great one to crank on the highway as you're approaching a city to get hyped.
Culture Abuse – Dip
'Bay Dream' is my album of the year so far. I could've picked any song from it for this. It's so refreshingly positive, something that's lacking in our van from time to time.
Bruce Springsteen – Darkness on the Edge of Town
This album just turned 40, so I've revisited a ton, and I think it has usurped 'Born to Run' as my favourite Springsteen album. This song is sparse and simple, but it hits so hard. It's not exactly a van jam, but something I'm studying as we start writing our next album.
MXPX – Moments Like This
We had the good fortune of doing Mike Herrera's podcast like 2 days after this new album ('MXPX') came out, and it was impossibly hard to not gush to him that he's one of the reasons I play music and that these new songs made me feel like I was 13 again. Instead, I played it super cool and said something along the lines of, your album is really good. So eloquent. I'm an idiot.
Phoebe Bridgers – Funeral
There's something about this song that gets to everyone in the van. I think it's just incredibly honest – the best kind of taken from a journal lyrics. Also, the chorus sounds like something we would do (we just wouldn't do it as well), and there's something pleasing about that.
Senses Fail – Is It Gonna Be the Year?
This record ('If There Is Light, It Will Find You') floored me when I heard it earlier this year. When I first put it on, the band groaned. I think it's a kneejerk reaction to a lot of bands we loved from this era. But by the time this track hit, I think just about everyone was sold. It's such a crushing look at life on the road, and I'm so glad Senses Fail put this album out.
Camp Cope – Animal & Real
Another band that we all agree is the best. I hadn't listened to the back half of this album as much, so I threw it on a lot and this song became my new favourite off the album (besides 'The Opener' because that might be a perfect song).
The Dirty Nil – Pain of Infinity
I got to see them twice in LA right before we left for our last tour, and they are the best live band playing right now. They own every room. They've been playing this one live for a minute, so I was pumped that I finally had a recorded version to listen to. I think their new album ('Master Volume') is going to destroy some people.
Third Eye Blind – Motorcycle Drive By
We'll be skipping through songs and talking, then this will come on, and everyone will shut up and sing along. It's just that good. Especially the big build – when it kicks in we air drum the shit out of our seats and steering wheel.
Mansions – Brain Fog
Mansions are an underrated band. Kyle (McAulay – Guitar) and I listened to them a ton because they record most of their stuff out of their apartment, which we're discussing doing for our next album. I wish they would tour again.
Hellogoodbye – S'only Natural
Half of our band secretly wants to start a dance project, so this had been a welcome addition to our playlists. It's such a banger.
Mercy Music – Song For
We just toured with Mercy, and in addition to being the nicest people on Earth, they write incredible songs. This is the highlight of their new album for me – it's catchy, depressing, and somehow uplifting all at once.
Bobby Barnett – No Appetite
After we released 'Schmaltz', I saw a lot of people mentioning that we reminded them of Captain, We're Sinking, which I found funny because I had never listened to them (it's especially funny if you know our band & who Bobby's brother is). But I decided I should listen, and thought that CWS was incredible, and then found Bobby's solo stuff, which is equally great. He's just an amazing songwriter, and this new EP reminds me a lot of Counting Crows.
Restorations – The Red Door
I didn't realize how much I missed Restorations until they put this song out. They're flexing on everyone here. It's such lean, powerful songwriting.
Sugarcult – Memory
This gets played at least once per tour with the obligatory, "dude Sugarcult was rad". We've unintentionally mapped out all the harmonies in the chorus, and it's just a delightful time whenever it comes on. Also, Sugarcult was rad.
---
Spanish Love Songs will be touring with Ducking Punches and We Bless This Mess on the following dates:
November
23rd Boston Music Room, London*
24th Sticky Mike's Frog Bar, Brighton*
25th Soup Kitchen, Manchester*
26th TBC, Newcastle*
27th Bannermans, Edinburgh*
28th Key Club, Leeds*
29th The Maze, Nottingham*
December
1st Luxor Live, Arnhem (NL)
2nd Ex Haus, Trier (DE)
3rd Chez Heinz, Hannover (DE)
4th Cassiopeia, Berlin (DE)
5th Hafenklang, Hamburg (DE)
6th Gebäude 9, Köln (DE)
7th C Bouckenborgh, Antwerp (BE)
8th Craufurd Arms, Milton Keynes*
9th Waterfront, Norwich*
* We Bless This Mess – UK only
'Schmaltz' by Spanish Love Songs is out now on Uncle M Music (EU) / A-F Records (US).
Spanish Love Songs links: Website | Facebook | Twitter | Instagram | Bandcamp