Although for many the festival season has come to an end, it's not quite over. This Saturday, over 60 bands will play across seven stages in Nottingham as part of the 2018 edition of Macmillan Fest.
As always, the all-dayer will see bands performing in the hope of raising awareness and money for Macmillan Cancer Support. Since it's inception in 2010, Macmillan Fest has played host to a whole load of rock, metal and punk acts. Its history of supporting and highlighting bands amongst the underground scenes includes names such as SikTh, Bleed From Within, TesseracT, and this year's headliners, Black Peaks.
Other names set to head to Nottingham on Saturday include Devil Sold His Soul, Holding Absence, Blood Youth, Palm Reader, Astroid Boys, Loathe, Martyr Defiled, Haggard Cat and many more.
For a taster of what to expect, we've put together this essential Macmillan Fest 2018 playlist: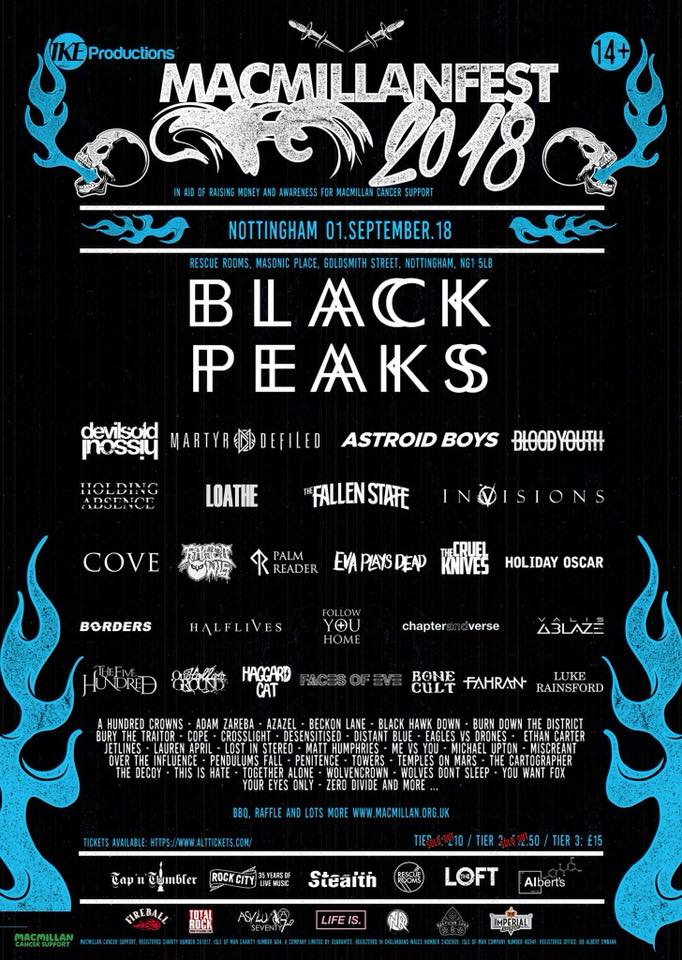 ---
Macmillan Fest Nottingham 2018 takes place across various venues (Rescue Rooms, Rock City Basement, Stealth, The Loft and Tap & Tumblr) in Nottingham on Saturday, 1st September.
Further information on Macmillan Cancer Support can be found here.