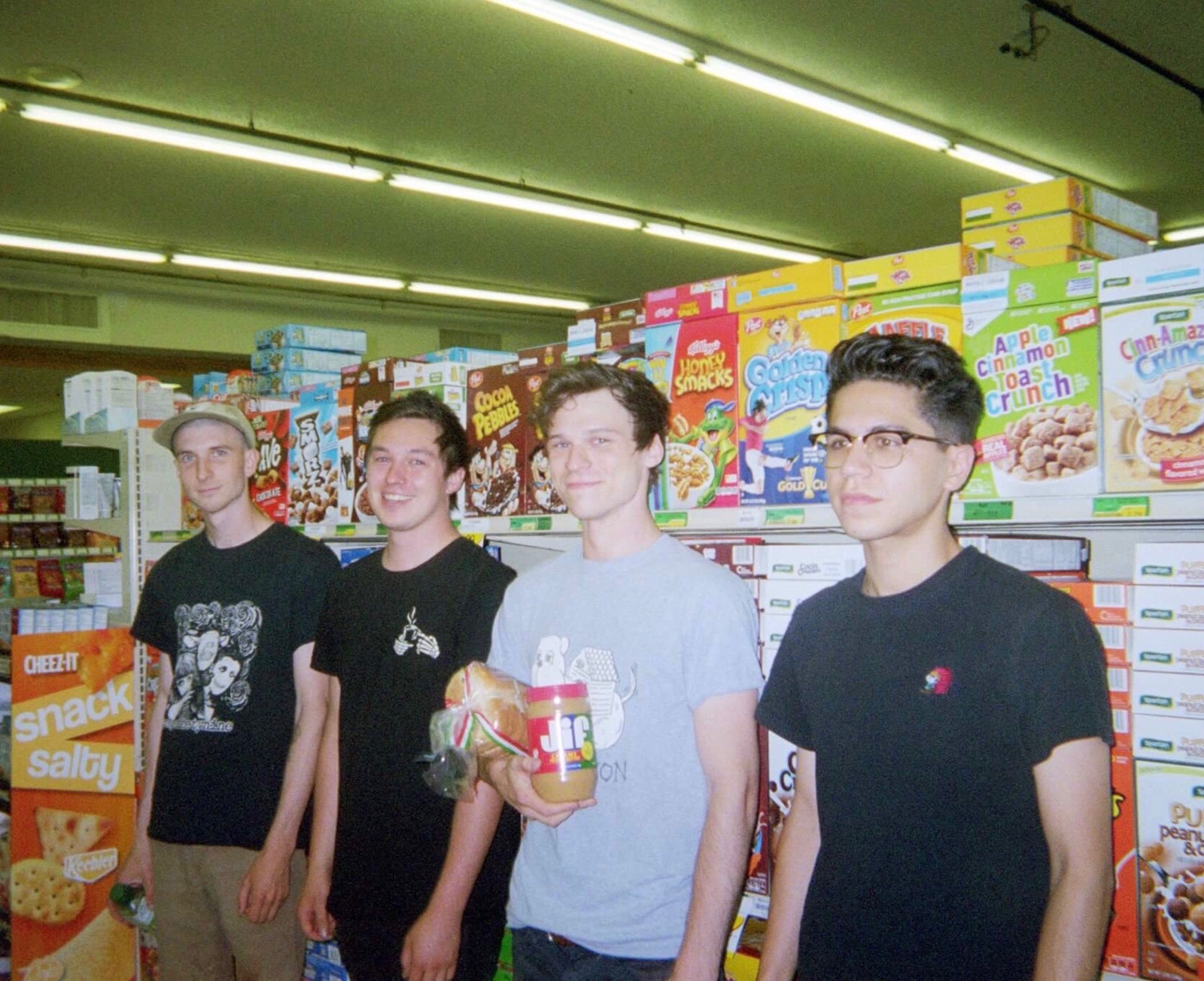 It's safe to say the "emo revival" of the early 2010's is here to stay. Nevertheless, there continues to be a host of new bands emerging within the genre, delivering outstanding records. One of those bands is Charmer. Based out of Michigan, the quartet recently released their eponymous debut album through No Sleep Records; a label that has played a key part in the aforementioned revival.
Over the course of 25 minutes, twinkling guitars and yearning, heartfelt lyrics dominate 'Charmer' as they fuse together yesteryear emo with present-day indie with delicacy. With a hint of 90's nostalgia throughout (see 'Topanga Lawrence') and its lo-fi production, courtesy of Modern Baseball's Jake Ewald, Charmer are certainly not a band jumping on a trend. They have delved into the genre's history and studied it with precision.
Having pulled our heartstrings with their debut album, we asked Charmer to pick out 10 definitive (almost) emo albums.
David Daignault (Guitar/Vocals)
You Blew It! – Grow up, Dude
This was the record that inspired me to start an emo band. The record seamlessly jumps song to song winding through melodic guitar parts and well thought out lyrics. It keeps you interested with sporadic transitions and a lo-fi production aesthetic that defined my favourite parts of the genre. If anyone needed a recommendation on what the 2010's emo revival was all about this is the record I'd send them.
Marietta – Summer Death
Marietta is one of those bands where it seemed like people didn't appreciate them until after they had broken up. In my eyes, Marietta established themselves as one of the best emo bands with they're intricate twinkly guitars that weave in and out throughout the entire record. Every single melody and lyric screams nostalgia that effortlessly creates imagery in the listeners head. This album opened up my eyes to a whole new world of composition which is hard to come by.
Nicholas Erickson (Drums)
Boys Life / Christie Front Drive – Split
This split is probably my favourite thing by both of these bands. The guitar playing on the Boys Life side is totally unhinged, as is the vocal delivery. So much conviction in the playing all around. Christie Front Drive's side has all the familiar weaving guitar melodies but the ones on this record are some of their most memorable. These bands compliment each other so well, it's a dream pairing for fans of 90's midwest emo.
Giants Chair – Purity and Control
The amount of good chemistry within this band is super evident on this record. The rhythm section is so precise but doesn't feel cold. Energetic drumming and big chorded bass lines abound, with their usual sharp guitar tone on top. One could say this album falls more into the noise rock or post-hardcore category but with lines like "I'd feel fine if I could feel at all," I'd say this is a classic emo record.
I Hate Myself – Ten Songs
I Hate Myself is probably considered more of a screamo band, but when you read their lyrics how can you not say they're an emo band? Their self-deprecating moniker is a pretty solid indication of what this band is about. The vocals actually make me cringe at times, not because I don't like them, but because this dude is screaming so hard it sounds like he's hurting himself. Some of these songs are truly depressing, and the rawness of the playing and the singing make it feel very real.
Neil Berg (Guitar)
Alkaline Trio – Goddamnit
'Goddamnit' was the album that really spoke to me. I was eleven when I was introduced to that record. I just remember hearing something poetic and punk and being sold.  It's difficult to not fall in love with a song like 'Cringe'.
Northstar – Pollyanna
'Pollyanna' is forever favourite. Vocals are unreal on this album, as well as great musicianship. In my ripe old age of 24, I also dig the folkier sound of Cassino (founding members of Northstar, Nick Torres and Tyler Odom).
Sunny Day Real Estate – Diary
'Diary' has a near and dear place in my heart. I bought that album thrifting with David shortly after becoming friends/bandmates. '48' is an unforgettable track.
Matt Langlais (Bass)
I have not listened to very much emo music. I'm probably the least well-versed in the genre of everyone in the band. Most of my influences have come from the "indie" side of things: bands like Interpol, Modest Mouse, and more recently artists like Ian Sweet and Jay Som. That being said, there are still a few albums that lie within the emo realm that have had an impact on me.
Taking Back Sunday – Tell All Your Friends
When I was like 10, my sister would listen to this album all the time so I mostly heard it through osmosis. But about four years ago, I revisited it and realized it shaped how I write music more than I thought. The album as a whole is just so fluid and I love that. There's also a lot of pop elements throughout it, and as I've grown to love pop more over time. I've learned to appreciate that and infuse it into my own music.
Glassjaw – Everything You Ever Wanted To Know About Silence
This album is one of the only I've gotten into that's even close to "hardcore" or whatever you'd even call it. I got into bands like He Is Legend and Every Time I Die for a bit when I was in high school and I stumbled upon Glassjaw as a result. I loved this album because it was so unique compared to everything I'd listened to by that point. There's always so much going on and the songwriting is on point. And obviously, Daryl's vocal performance on it is wild. This album was a great introduction for me to show how far genre and form can be pushed.

'Charmer' by Charmer is out now on No Sleep Records.
Charmer links: Facebook | Twitter | Bandcamp | Instagram
---
If you have enjoyed reading this article and would like to help us produce more content and promote more great new music, please consider donating to our Patreon page.